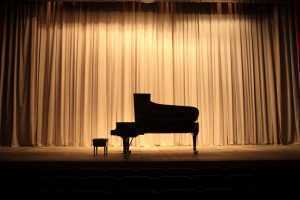 The piano is an instrument that has altered music in monumental ways. Invented in Italy at the beginning of the 18th century, the piano is a powerfully dynamic instrument that is uniquely able to reflect the peaks and valleys of the human story with sound. Original pianos were very similar to harpsichords except for one huge difference: dynamics. Pianos are able to play softly as well as powerfully loud due to their unique hammer-on-string construction. The ability to play music dynamically has made the piano a mainstay instrument in nearly every of genre of music conceivable, as opposed to the harpsichord, which is now rarely heard in any type of music. Famous piano players have used their instrument to create hugely impactful music over the past three centuries, and in this article we'll highlight some incredible pianists in different genres of music.
James Booker- Blues
It's no wonder James Booker created such unique, innovative piano music once you learn about his backstory. Born in New Orleans in 1939, Booker grew up in a family of piano-playing Baptist ministers. He got his start by playing the organ during his father's church services. Before becoming enthralled with blues music, he learned how to play in the classical style by memorizing difficult compositions by Chopin and Bach. His love of classical music eventually led to an interest in jazz and stride playing styles before moving on to becoming a blues performer. Early on in his career when he was just a teenager, Booker recorded piano for artists like Smiley Lewis and Fats Domino before becoming well known in his own right. Booker was as famous for playing incredibly intricate passages of piano music at breakneck tempos as he was for his wild, flamboyant performances on stage.
Like many brilliant musicians, Booker struggled with drug and alcohol addiction during the entirety of his life and was frequently in and out of prison. He famously formed a relationship with New Orleans District Attorney Harry Connick Sr., who nullified one of Booker's prison sentences in exchange for piano lessons for his son, Harry Connick Jr. Booker went on to perform his incredible brand of blues piano music around the world and became known as "The Black Liberace." He always wore an eye-patch over his left eye, and unconfirmed rumors ranging from Booker faking an eye injury to him losing the eye in a fight over drugs persist to this day. The great blues musician Dr. John called Booker, "The best black, gay, one-eyed junkie piano genius New Orleans has ever produced."
Sergei Rachmaninoff- Late Romantic
Next on our list of famous piano players, composer and pianist Sergei Rachmaninoff was born in Russia in 1873. In addition to creating some of the most cherished piano and orchestral works of all time, Rachmaninoff's life and career also unwittingly put the Soviet Union's tenuous relationship with artistry and music front and center on the world stage. He began playing the piano at the tender age of four, and graduated from the Moscow Conservatory of Music in 1892. He began composing piano and orchestral pieces as a teenager, and entered a four-year period of depression where he composed very little music after his first major symphonic work was negatively received by critics. After years of therapy, Rachmaninoff wrote his "Piano Concerto no. 2," which was enthusiastically received by critics.
It was well known that Rachmaninoff was a critic of Bolshevism, and after a year of humiliation brought on by being forced by the Leninist Regime to sell his estate, Rachmaninoff accepted an offer to perform ten recitals in Scandinavia. He used the opportunity to obtain permits for him and his family to leave the country. On December 22nd 1917, he left with his family on a sled to Finland and then to Helsinki carrying a small amount of money, some notebooks with sketches of compositions, and two orchestral scores. Nearly a year later, he traveled to the United States with his family where he went on to solidify his role as a major composer of the modern musical era. He was ranked among the best pianists of his time, and his virtuosic percussive approach to playing the piano has been widely imitated by pianists for well over a century.
Thelonious Monk- Jazz
Frequently held up as one of the greatest jazz musicians of all time, Thelonious Monk is known for his sophisticated improvisational style. Monk's signature sound embraces dissonance and jarring shifts in melody. Monk's compositions are highly physical and hallmarked by percussive playing that oscillates between abrupt sounds and silences. Monk was born in 1917 in North Carolina. After teaching himself piano, he began his musical career by playing jazz with a church group that toured the United States when he was still a child. After moving to New York City, he began working as the house pianist for a now-famous club called Minton's Playhouse. It was in this club where Monk heard and developed his own unique approach to jazz music. At Minton's, Monk met and worked with some of the great names in jazz including Dizzy Gillespie, Charlie Christian, Kenny Clarke, Charlie Parker, and Miles Davis.
Monk was known for his engaging performances and unrivaled sense of style. He was infamous for unexpectedly standing and dancing at the piano while the members of his band would continue to play. He was one of only five musicians to make the cover of Time Magazine after Louis Armstrong, Dave Brubeck, and Duke Ellington and before Wynton Marsalis. Monk's storied career and incredible playing style influenced countless famous piano players and other musicians in and out of the genre of jazz.
Meade Lux Lewis- Honky-Tonk/Boogie-Woogie
Meade Lux Lewis changed the face of music by bringing the boogie-woogie piano-playing style into the cultural mainstream. Boogie-woogie was essentially the 1920's version of club music, and it featured a unique approach to the way left hand bass lines were played on piano. Born in Chicago around the turn of the 20th century, Lewis' life in music began with the violin, which he studied until the age of 16 until switching to the piano. He made his recording debut in 1927 with "Honky-Tonk Train Blues" for Paramount Records. His rendition of the song took off and made him one of the most famous piano players in the United States at the time. He began playing higher profile shows and his performance at Carnegie Hall in 1938 was received with great acclaim.
By the 1940's, the country had become obsessed with boogie-woogie and Lewis, who'd begun performing in a trio with two other pianists, was at the height of his fame. Though he wasn't credited, you can see Lewis playing piano in the film It's a Wonderful Life when George Bailey's character gets kicked out of Nick's bar. Today, Lewis' style is widely imitated by a generation of pianists who might not even know who he was and the impact he's had on popular music.
Ray Charles- Soul/R&B/Rock and Roll/ Country/ Gospel
Ray Charles, or "Brother Ray" as close friends and other musicians used to call him, is credited not just as being one of the most famous piano players of all time, but also for pioneering soul music by combining rhythm and blues, gospel, and country genres into the songs he recorded for Atlantic Records. Frank Sinatra called him "the only true genius in show business," and he was listed at number 10 of Rolling Stone's greatest artists of all time.
Charles learned the boogie-woogie style of piano from a close family friend at the tender age of three years old. At four, Charles began losing his sight to glaucoma, and he was completely blind by age seven. In school, a music teacher taught him how to read music through braille where he mastered pieces composed by Bach, Mozart, and Beethoven. This process was extremely tedious and time consuming because it required him to read with one hand, play with the other, and then combine the hands to play the complete piece. While he enjoyed playing classical pieces, he became interested in learning how to play the jazz and blues music he heard on the radio. He taught himself how to sing and play popular songs and would perform them at assemblies held by the South Campus Literary Society.
At 14 years old, he began his professional career by working as a house pianist for clubs in Jacksonville, Florida for $4 a night. He remained in Florida for a few years and then left for Seattle, Washington to form his own band in 1948. In Seattle, he met Quincy Jones and began building his reputation there. In 1952, Atlantic Records took notice and signed Ray Charles for $2,500. His first hit on the label came a year later with "Mess Around" followed by many others. "I Got a Woman" was recorded in 1954, and it became Charles' most well-known song. "I Got a Woman," which combines the elements of gospel, blues, and jazz, is said to be the first soul song ever recorded.
Benjamin Britten- Classical
English composer and pianist Benjamin Britten is one of the most influential figures in modern music. Born in 1913, Britten showed a talent for music at a young age and studied at the Royal College of Music with composer Frank Bridge. His opera Peter Grimes is often referred to as the first great British opera, and his other compositions catapulted him into international musical fame throughout his career. Britten was known for being somewhat of a nervous pianist when he performed; so much so that he typically had other pianists perform his pieces. He was too nervous to play piano solos, but sometimes performed in duets with various partners. Even so, he definitely belongs on a list of famous piano players for his contributions to the art form.
Leonard Bernstein famously said that Britten was a man "at odds with the world," and this sentiment is certainly reflected in the fondness for dissonance that appears so frequently in his compositions. "If you hear it and not just listen to it superficially, you become aware of something very dark," Bernstein went on to say about Britten's music. Britten's life and career was marred by personal feuds and a controversy surrounding various friendships he'd formed with young boys. Controversies aside, Britten's contribution to modern music is indelible, and Britain continues to embrace his important legacy.
An Incredible Instrument
Innovative pianists have been bringing piano music to new places for over three centuries, and it's incredible to listen to how music made on the instrument evolved over the years. Unknown musicians, as well as famous piano players, have propelled music written for the piano to some incredible and unexpected territories, and we can't even begin to imagine what music written for the piano will sound like three centuries into the future.