Are you and your brother or sister classical music siblings? Did you ever take music lessons together? Maybe you learned from the same teacher, or perhaps you all had different instruments – but maybe you occasionally played a duet or trio together.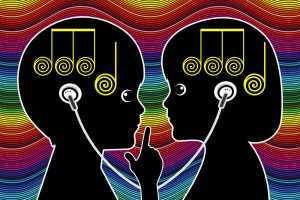 Well, guess what? Many siblings have performed classical music together, and some have become very successful musicians. Were these classical music siblings just brilliant, or was there something about their home life that cultivated their success? Who knows. But the fact remains – music is a wonderful way to provide families with quality time spent together. And here are some of the real-life cases you can read for inspiration!
J. S. Bach – Baroque Period Musician (1685 – 1750)
The son of a musician and the father of multiple musicians – Johann Sebastian Bach was definitely a family music man. In fact, he was just one in a line of many different musicians in the Bach family that were quite well respected for their musical prowess in Germany. His classical music sibling – well, one of them – was an older brother, Johann Cristoph, who raised J. S. Bach after he was orphaned at age nine. Johann Cristoph helped J. S. Bach learn the techniques of pipe organ and harpsichord playing, and instructed him in music composition. He also let his little brother watch the new pipe organ be installed at the Ohrdruf church – where the older brother was the church organist.

Johann Sebastian Bach later went on to become one of the world's greatest composers and had 20 children, at least seven of whom also followed his musical path. Here are just a few of those children, and what they did.
Bach's oldest child, Catharina Dorothea Bach (1708 – 1774), was a singer who helped out her father. Child number two, Wilhelm Friedmann Bach (1710 – 1784), became an organist and was the teacher of Johann Gottleib Goldberg. Bach's fifth child, Carl Philipp Emanuel Bach (1714 – 1788), originally studied law. But music won out and he became a famous clavier performer in the classical style – and wrote over 300 compositions for his primary instrument. Elisabeth Juliana Friederica Bach (1726 – 1781), who was Bach's eleventh child, married J. S. Bach's pupil, Johann Christoph Altnikol. In addition to being a music student, Altnikol served as J. S. Bach's copyist and helped him with his compositions from 1744-1747. Child number 16, Johann Christoph Friedrich Bach (1732 – 1795), was a composer who favored an Italian flavor in his music. The eighteenth child, Johann Christian Bach (1735 – 1782), was a composer and is believed to have been an influence over Mozart when the younger musician wrote his concertos. And Bach's youngest child, Regina Susanna Bach (1742 – 1809), was financially aided in her later years by the composer Beethoven.
Franz Joseph and Johann Michael Haydn – Classical Period Musicians
Here are a few quick facts about these classical music siblings: they both left home at an early age to begin their musical training. According to Britannica.com, Franz Joseph left home before the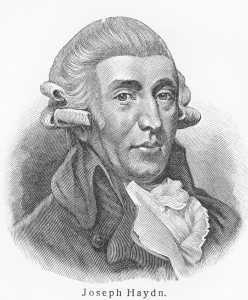 age of six to pursue musical training, and only returned for short vacation visits for the rest of his life. His younger brother, Michael, was also sent to the same school for music training. However, Michael found his full-time employment in Salzburg, while his older brother traveled more widely both in Austria and throughout Europe.
Franz Joseph Haydn (1732 – 1809) was an Austrian-born singer, composer and director. (He also learned to play a variety of instruments, according to Britannica.com). He is known today for having a major impact on the classical style of music. According to Naxos.com, he composed 108 symphonies, two dozen operas, and 67 string quartets – just to note a few of his accomplishments. Employed for many years by the Esterházy family, Franz Joseph Haydn frequently travelled with his patron. Later on in life, he spent quite a bit of time in England. One of his most famous works is the "Farewell" Symphony, (Symphony no. 45) with which Haydn diplomatically tried to tell his employer that it was time to leave the royal vacation spot and go home.
Michael Haydn (1737 – 1806) was the younger brother who stayed in Austria. An article from the New York Times explains that Michael spent most of his life in Salzburg, working as an organist for a variety of churches (including Holy Trinity and St. Peter's, according to haydn.dk). Following the death of Leopold Mozart, Michael Haydn was appointed as the violin teacher for the court of Salzburg. He worked, too, as a composer and was commissioned by Empress Maria Theresia to write a requiem. In 1800, the French took Salzburg and Michael lost property and finances. He was aided by his brother, Joseph, and offered a position in the Esterházy court. He seems to have later regretted his refusal of the offer, as his fortunes did not return to their pre-French invasion level. Well respected for his musical compositions, Michael Haydn became a member of the Royal Swedish Academy of Music.
Wolfgang and Nannerl Mozart – Classical Period Musicians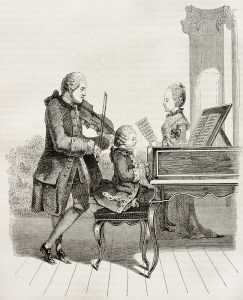 Nannerl, formally known as "Maria Anna," was actually the first prodigy that father Leopold Mozart trained. The Smithsonian Magazine has an interesting article which suggests that, due to his older sister's example and influence, the young Wolfgang was primed for musical achievement in a way that might not have happened, had he never had the friendship and friendly expertise of his classical music sibling.
Maria Anna Mozart (1751 – 1829) was first taught to play the keyboard when she was eight years old. She was an astoundingly good musician, and was considered a prodigy. She was taken on musical tours with her younger brother, and met with a great deal of success as a child musician. Her tours and music performances seem to have stopped when she was eighteen years old, but she maintained a high interest in the field, even winning a commendation from her brother for a composition she wrote as an adult. (Smithsonian Magazine quotes him as saying, "My dear sister! I am in awe that you can compose so well, in a word, the song you wrote is beautiful.") Marrying at the age of 33, Nannerl became the mother to five step children as well as her own three children, and taught music.
Wolfgang Mozart (1756 – 1791) was a child prodigy who won the hearts of audiences throughout Europe. His father, Leopold, took both Nannerl and Wolfgang on tours where they were greeted by monarchs and royals with great enthusiasm. The sibling connection definitely could have spurred Wolfgang's creativity; he composed 41 symphonies, 22 musical dramas (ranging from short sacred dramas to full scale operas), a number of piano and violin concertos, and a myriad of church masses, serenades, and quartets.  One of his most famous and often-heard works in concerts and on radio channels is the Eine Kleine Nachtmusik serenade, for string orchestra.
Fanny and Felix Mendelssohn – Romantic Period Musicians
While Felix is the more widely recognized musician of the family, his older sister, Fanny, was also a musician in her own right, and worked to publish her own works as an adult. Both classical music siblings were tutored in piano and music theory by the same instructors.
Fanny Mendelssohn-Bartholdy Hensel (1805 – 1847) thrived in the musical tutoring her family provided for her as a child. She and her younger brother, Felix, shared the music teachers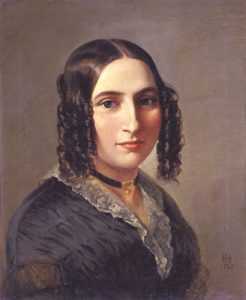 Marie Bigot de Morogues, Carl Friedrich Zelter, and Ludwig Berger. Some of Fanny's compositions are still performed, today – she wrote around 500 compositions, according to classical-music.com. Fanny married and raised a family. However, she died at the age of 41 from a stroke, after a musical rehearsal, leaving many to wonder what musical feats she might have accomplished, had she lived longer.
Felix Mendelssohn (1809 – 1847) is credited with re-establishing J.S. Bach as a monumental part of the classical music world. Felix had a wonderful reputation as a musician, himself. His first compositions were performed at home, in concerts that his family arranged with a private orchestra. (Father Abraham Mendelssohn arranged 'Sonntagsmusiken,' which were small concerts held in the home with hired musicians every Sunday from 11 a.m. – 2 p.m. Both Felix and Fanny performed and wrote music for these events. See this link for more information.)
Between the ages of twelve and fourteen, Mendelssohn had written 12 symphonies. By the age of 17, Felix had composed and performed an "Overture" to A Midsummer Night's Dream. And when he was 20 years old, Felix rehearsed and led a performance of J. S. Bach's "Passion According to St. Matthew". (It was the first time that this work had been performed since Bach died in 1750. Interestingly enough, according to a Library of Congress article, Felix's maternal grandmother had presented him with a copy of the Passion when he was 15. He was inspired by the music and determined to perform it.). Mendelssohn formed and taught in his own musical conservatory, married, and had five children. But his hectic pace and, possibly, the impact of his sister Fanny's death proved to be too stressful and he died at the age of 38.
Modern Classical Musicians
Today, you will find many classical musicians that are siblings. Sometimes, one sibling has more of the spotlight than the other, and sometimes, all are equally well known. Here are just a few of the classical music siblings we have with us today.
Gil and Orli Shaham are a brother-sister duo that play the violin and piano. While the classical siblings have recorded some music together, Gil (born in 1971 in Illinois) and Orli (born in 1975 in Jerusalem) have their separate concert music careers. In addition to her concert piano work, Orli hosts a radio program, "Dial a Musician," which takes a listener's question and asks other professional musicians for their responses. Gil is currently an active recording and performing violinist, giving performances around the globe.
Midori and Ryu Goto are a sister and brother pair who both play the violin. Midori (born in 1971 in Japan) was the first to hit the national stage at the age of 11, when she was invited to perform with the New York Philharmonic at their New Year's Eve concert. Her career has spanned the decades as a concert musician, and she now serves as a distinguished professor of violin at the University of Southern California Thornton School of Music. She also has worked to bring music education to the underprivileged in both the United States and in Japan, and was named a messenger of peace by the United Nations. Brother Ryu (born in 1988) made his classical debut at the age of seven by playing the Paganini violin concerto no. 1. His performance was with the Pacific Music Festival in Sapporo, Japan. Since then, he has been a violin soloist, and he has also graduated with a degree in physics from Harvard University. Like his sister, Ryu works to bring classical music excellence to a variety of venues with the cooperation of the New York City Department of Education and other educational organizations.
And, who could not recognize the Ying Quartet?
Classical music siblings Timothy, Janet, Philip, and David Ying (violin, violin, viola, cello) graduated from the Eastman School of Music and received a two year grant from the National Endowment of the Arts to promote classical music in Jesup, Iowa. The grant allowed them to live and perform in rural areas as a classical group. However, the Yings are active musicians who routinely perform everywhere from Carnegie Hall to Tanglewood, and the Sydney Opera House. The Yings also teach, and serve as the quartet in residence at the Eastman School of Music. Brother Timothy spent over 20 years as a member of the Ying quartet, but has since been replaced by different violinists, most recently, Robin Scott. (See their website for more information on the quartet's activities.)
When They Get Along…
Classical music siblings have a unique bond with one another. It's truly a gift to both perform music together and to be able to call these cohorts your closest friends. As history proves, siblings are able to do great things, and to encourage one another to even greater heights. Is it the training? A family trait? Probably it is both. And we, as music enthusiasts, are better for having experienced their art.