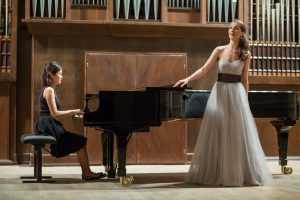 Congratulations! You're a soprano who has been consistently studying voice for a while and you feel ready to dive into the world of auditioning. Now comes the time to prepare a list of soprano audition songs in order to present yourself to an audition panel as the dedicated, well-rounded musician that you know yourself to be.
Typically, an audition panel will request that the singer present a "package," a list of repertoire that meets the organization's specific requirements and shows off the singer's strengths and potential. These requirements might possibly include language, style, genre, tempo, and musical era. Though a singer rarely gets the opportunity to sing through an entire package during an audition, he or she should consider the following steps when deciding on audition repertoire in order to best prepare for a successful audition experience:
Check and DOUBLE CHECK audition requirements—the level of specificity of song choice will vary from company to company, so the singer must take the time to research requirements and prepare a package based on those exact specifications. That being said, more often than not one of your chosen soprano audition songs will meet more than one of these requirements. For example, "Have peace, Jo" from Mark Adamo's opera, Little Women, fulfills not only a potential English language requirement but also a requirement for a 20th century composition.
When choosing songs to offer, always choose repertoire that represents where you are in your vocal education NOW. Make sure each song represents roles that you could perform tomorrow, if need be, rather than "stretch" pieces that show future potential. While it's not entirely inappropriate to include one "stretch" piece, the majority of your package should be appropriate for your current abilities and vocal maturity.
Prepare, prepare, prepare! The easiest way to eliminate audition-day nerves is to be as prepared as possible. Memorize, practice, and rehearse each song thoroughly before you even consider putting it in front of an audition panel. Research the composer as well as any background information related to each song. This step is often arduous but will make an enormous difference in the singer's professionalism.
Many audition panels hire pianists to accompany the singers, meaning the singer most likely won't have the opportunity to rehearse with the pianist before auditioning. In most cases, these pianists are fantastic and have played the singer's chosen repertoire hundreds of times throughout his or her career. Keep in mind that the more obscure your audition selection, the less likely the pianist will be familiar with it. To do both your accompanist and yourself a favor, choose songs that are not incredibly difficult to sight-read if they fall outside the realm of standard audition repertoire.
Audition panels rarely grant a singer more than seven to ten minutes to present his or her best possible singing. To ensure enough time to potentially sing more than one song if asked, try to choose repertoire that doesn't exceed four minutes.
Soprano Audition Songs
Below, I've listed a selection of soprano audition songs organized into categories based on potential specifications. These songs and arias are most appropriate for sopranos in their mid-teens to early-to-mid-twenties. While these songs represent a fraction of potential soprano audition repertoire, they will provide a starting point for any auditionee new to the process:
The Younger Soprano
"There Stands a Little Man" from Hansel and Gretel by Engelbert Humperdinck (English/ German)
"When I Have Sung My Songs" by Ernest Charles (English)
The Italian Standard 
            "Bel piacere" by George Frideric Handel
            "Quella fiamma" by Benedetto Marcello
The German Standard 
            "Nacht und Träume" by Franz Schubert
             "Widmung" by Robert Schumann
The French Standard 
            "Beau soir" by Claude Debussy
            "Après un rêve" by Gabriel Fauré
The English Standard

            "Sure on this shining night" by Samuel Barber
            "Love's Philosophy" by Roger Quilter
The Operatic Standard
            "Ach, ich fühl's" from The Magic Flute by W.A. Mozart (German)
            "V'adoro pupille" from Julius Caesar by George Frideric Handel (Italian)
            "Je veux vivre" from Romeo and Juliet by Charles Francois Gounod (French)
           "Fair Robin I love" from Tartuffe by Kirke Mechem (English)
The Singing-Actor
            "Deh vieni, non tardar" from The Marriage of Figaro by W.A. Mozart (Italian)
            "Una donna a quindici anni" from Così fan tutte by W.A. Mozart (Italian)
            "Mein Herr Marquis" from Die Fledermaus by Johann Strauss (German/ English)
The Audience Favorite
"Quando m'en vo" from La Bohème by Giacomo Puccini (Italian)
"O mio babbino caro" from Gianni Schicchi by Giacomo Puccini (Italian)
"Der Hölle Rache kocht in meinem Herzen" from The Magic Flute by W.A. Mozart (German)
The Musical Theatre/ Classical Crossover
"What Good Would the Moon Be?" from Street Scene by Kurt Weill (English)
"Es lebt eine Vilja (Vilja'Lied) from The Merry Widow by Franz Lehár
(English/ German)
The Folk Song

*For younger and college-aged sopranos, folk songs require many of the technical skills needed to sing classical repertoire and are often a refreshing addition to an all-classical package:
"The Sally Gardens" arranged by Benjamin Britten
"She's Like the Swallow" arranged by Carl Strommen
Additional Resources
Anthologies devoted to specific styles and languages of soprano repertoire exist in abundance today. If you'd like to explore additional potential soprano audition songs, here are a few options to check out at your local music library:
The First Book of Soprano Solos – Parts I, II, and III by Joan Frey Boytim
Twenty-Four Italian Songs and Arias for Medium High Voice (Hal Leonard Corp.)
The French Song Anthology for High Voice by Carol Kimball and Richard Walters
The Lieder Anthology for High Voice by Richard Walters and Virginia Saya
Art Song in English: 50 Songs by 21 American and British Composers for High Voice by Carol Kimball
Benjamin Britten: Complete Folksong Arrangements for High Voice (Boosey & Hawkes)
The G. Schirmer Collection of American Art Song
Italian Arias of the Baroque and Classical Eras for High Voice by John Glenn Paton
Arias for Soprano: G. Schirmer Opera Anthology – Volumes 1 and 2