Considering the many opera voice types, it's no wonder that people often get confused—the genre stretches back to the very end of the 16th century and has changed dramatically over time. From lyric sopranos to basso profundos, we've put together a guide to the types of vocalists you are likely to see at the opera today, paired with famous roles featuring those voice types.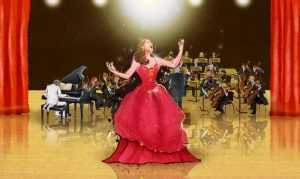 We'll follow up with Part 2 in the near future. It will cover the structure of opera–overtures, arias, recitatives, and ensemble numbers are all included. We hope you feel right at home the next time you visit the opera!
The Singers
Imagine walking home after community or high school choir rehearsal and someone exclaiming to you, "Wow! What a beautiful coloratura voice!" You would probably be confused.
Most of us don't go beyond the typical bass, tenor, alto, and soprano choral designations, but in opera, there are terms that describe fullness of voice as well as the range. Here is your guide to opera voice types, from the light and athletic "coloratura" soprano voice to the thunderous "basso profundo."
Female Opera Voice Types
The Soprano
Just in case the opera voice types weren't challenging enough to decipher, the soprano voice can be broken down into five subcategories: coloratura, lyric, dramatic, soubrette, and spinto. What's the difference?
Let's start with the Coloratura voice. It's the highest of the soprano distinctions (vocalists refer to the voice as having an "upper extension"), but the flexibility and timbre, as well as the range, are important deciding factors. Coloraturas often have to sing the most difficult roles, and they need to be comfortable with scales, arpeggios, and frightening leaps. Well, the leaps are frightening to most of us, but not to coloratura sopranos. Coloraturas generally have the most prominent female role in an opera. For a good example of a coloratura aria, listen to the character Adele sing "The Laughing Aria" from Strauss' Die Fledermaus or perhaps the most well-known, The Queen of the Night's "Der Hölle Rache" from Mozart's The Magic Flute.
Soubrette sopranos have a bright voice with a sweet sound that lacks the upper extension and athleticism of a coloratura voice. Soubrette roles are often played by young sopranos for two reasons in particular: first, young voices are better suited to the desired timbre of a soubrette. Secondly, soubrette roles often call for a singer to play a young, flirtatious character–watch Claudia Cota performing in Donizetti's opera, Don Pasquale. The soubrette voice type is also often associated with servant characters, and these roles are often referred to as the "inas" and the "ettas". This stems from character names such as Despina, Barbarina, Giannetta, Zerlina, etc.
Lyric Soprano. While the lyric soprano may be the most common of the female opera voice types, it isn't any less beautiful than the more elusive coloratura. Lyric voices have a warmer sound than a coloratura and generally sing complementary roles in an opera—roles that need long, beautiful phrases. To make things even more complicated, lyrics are generally divided into two categories: light lyrics and full lyrics. Light lyrics tend to have less weight to their voice than full lyrics but more weight than soubrettes. Full lyrics have more weight in their voices and their tone tends to be fuller than a light lyric's. Musetta from La Boheme is one of the most famous light lyric roles, so don't miss this video of Anna Netrebko singing "Quando M'en Vo."
Who says that coloraturas get all the attention? Popular full lyric roles include The Countess in Mozart's The Marriage of Figaro and Mimi, also of La Boheme.
Spinto sopranos, like Sondra Radvanovsky, have the ability to sing high with an effortless tone (up to a C6 or D6) while also projecting lower tones that border the dramatic range. Texture-wise, spintos are able to project a darker–and sometimes edgier–sound than lyric sopranos, and as such they portray a wider range of operatic emotions than other singers. The word "spinto" comes from an Italian word meaning "to push." Famous roles include Cio-Cio San in Puccini's Madama Butterfly and Aida in Verdi's Aida.
What the Dramatic Soprano lacks in athleticism and agility, it makes up for with strength and timbre. The dramatic soprano voice carries a "dark" quality that makes it suitable for heroic roles, and the famous "Wagnerian Soprano" voice type fits into the dramatic category. Think of the stereotypical fat lady in a horned helmet- that's a caricature of the Wagnerian soprano role of Brünnhilde from Wagner's Ring Cycle. The role of Sieglinde in Die Walküre also exemplifies the Wagnerian Soprano, and Abigaille from Nabucco demonstrates the more traditional dramatic soprano voice.
The Mezzo Soprano
Simply put, the mezzo soprano voice fits between the soprano range and the contralto range (see below). Not as simply put, mezzo range begins at the A below middle C (A3) and continues for two octaves to the A5. The mezzo soprano voice typically falls into three categories: coloratura, lyric, and dramatic.
To be a true Coloratura Mezzo, a soprano needs to have all the dark sound of a mezzo while keeping the agility of a true coloratura. She also needs the "lower extension," or the ability to dip down in the lower register. Baba the Turk from The Rake's Progress (Stravinsky) should give you a solid example of the coloratura mezzo. Other well-known roles include the title role in Rossini's La Cenerentola and Rosina in The Barber of Seville, also by Rossini.
Lyric Mezzos serve the same purpose as lyric sopranos–to generally focus on smooth, longer phrases. The warm vocal texture isn't as big as the "dramatic" voice, and it isn't as agile as the coloratura mezzo. The lyric mezzo range, which begins around a G3, extends for two octaves upwards, and lyric mezzos are often used for "pants roles." Listen to Isabel Leonard performing the role of "Miranda" from The Tempest for an example of a traditional lyric mezzo role. One of the most famous lyric mezzo roles is the title role in Carmen, by Bizet.
Dramatic Mezzo
The dramatic mezzo soprano voice carries considerable weight—singing over the orchestra shouldn't be at all a problem for the dramatic mezzo soprano. Dramatic voices have historically filled the older and more villainous parts of an opera, and the bulk of the dramatic repertoire was written during the age of German romantic opera. Verdi was also known for his contributions to the dramatic voice, though—listen to this recording of Nadia Krasteva singing the aria "Stride, la vampa." Of course, you also have to listen to an aria from one of the dramatic mezzo's most famous roles: the character Fricka from Wagner's Die Walküre.
The Contralto Voice
First off, listen to "Erda's Warning" from Das Rheingold by Wagner. Enough said.
Contralto opera voice parts come as more of a commodity, and you won't hear them every day. In fact, it's so rare to find a legitimate operatic contralto that dramatic mezzo sopranos often have to sing contralto roles (much to their chagrin, we can imagine). Contralto voices are characterized by an exceptionally deep, rich, and powerful timbre–Marian Anderson is arguably the best example. Contralto is the lowest of the female opera voice types.
Male Opera Voice Types
Countertenors are the highest of the male voice types, and they achieve the same range as a female contralto by utilizing the "falsetto" mechanism. Countertenors are usually men with a natural baritone (and sometimes tenor) voice, and the male falsetto offers a unique and striking tone–you probably won't confuse it with a contralto. Listen to this aria from Britten's A Midsummer Night's Dream.
Tenor
The highest male voice after the countertenor can be subdivided into five categories: leggiero, lyric, spinto, dramatic, and heldentenor. They roughly mirror the same subdivisions of the soprano voice from highest to lowest (or "brightest" to "darkest," more accurately).
Leggiero tenors act as the male version of the coloratura soprano. The leggiero tenor voice often carries a full resonance in the middle and lower ranges, but what sets a leggiero tenor voice apart from the other opera voice types is its "upper extension" above a high A flat. Don't mistake the leggiero tenor's upper extension with a falsetto–the mechanism is entirely different. Listen to Juan Diego Florez singing "Ah mes Ami" to hear a true leggiero tenor.
Lyric tenors possess a smooth vocal quality and a range of approximately C3 to C5. The warm, pleasant lyric voice can be used for a variety of roles and lacks the edge of a spinto or the upper extension of a leggiero. Many famous Italian operas feature leggiero or lyric tenor roles, and the tenor is often both the hero and love interest. Some famous roles include Romeo from Gounod's Romeo and Juliet and Figaro from the Paisiello Barber of Seville.
Spinto tenors possess the same range as a lyric tenor, but the voice carries more weight–it is less warm and more heavy. Oftentimes a lyric tenor will transition to a Spinto voice type as they get older. Spinto opera voice types are known for the ability to express a more dramatic range of emotions and climaxes without straining the voice. Listen to an aria by the character Don Jose from Carmen to get the idea.
Dramatic tenors have a striking vocal presence–they can sing strong and intense (and often heroic) lines over an orchestra without risk of vocal injury. The range is slightly lower than that of a lyric tenor, and many dramatic tenors prefer not to sing the much-feared High C in performances. Florestan from Beethoven's Fidelio is a classic dramatic tenor role.
Heldentenors, often referred to as "heroic tenors," have the largest and darkest of all tenor voices. In fact, heldentenors are often transitioned baritones. Wagnerian tenor roles often call for a true heldentenor–take Siegfried, for instance–and a vast majority of dramatic tenor roles come from German romantic literature. A non-Wagner example of a heldentenor role is Aegisthus from Strauss' Elektra.
The Baritone Voice
Baritone voices fall between the tenor and bass ranges (from about F2-F4) and exhibit a warm quality—think of a cello in the string family. The baritone voice is commonly divided into three categories: lyric, dramatic, and bass baritone.
Lyric Baritones possess a higher tessitura than dramatic baritones or bass-baritones, and the color of the lyric baritone voice is the warmest in the family. If you've heard the role of Marcello from La Boheme, you are familiar with the smooth sound of a lyric baritone voice. Other famous lyric baritone roles include Don Giovanni in Mozart's Don Giovanni and Figaro in Rossini's Barber of Seville.
Dramatic Baritones, as you can probably guess by now, have a more intense and dark sound than the lyric baritone. Correspondingly, the dramatic baritone tessitura is slightly lower as well. "Verdi Baritones" are considered part of the dramatic family, although they handle higher passages better than typical dramatic baritones. For a Verdi example, listen to the title role in his opera Nabucco; for a non-Verdi option, try Scarpia from Puccini's Tosca.
Bass-Baritones fill the gap between the traditional baritone tessitura and that of a bass. In short, these baritones have to sing lyrically in the baritone range while producing bass-like resonance in the lower tessitura. Wagner wrote demanding bass-baritone roles in Der Fliegende Hollander and the Ring Cycle, among others. Bass-baritone and basso cantante roles often overlap–we'll get to basso cantante in a moment.
Bass
At last we come to the bass voice—the anchor of the vocal family. The bass in an opera rarely enjoys heroism or much of a love life, since composers prefer to give basses the more villainous roles. A voice is generally considered "bass" when it reaches the second E below middle C. As with the other voice types, the bass voice is divided into subgroups.
Basso Cantante refers to a "singing" bass voice. Put simply, the cantante bass voice could be considered the bass equivalent to the "lyric" member of most other vocal families. The voice possesses an exceptionally rich quality without being harsh–listen to the Figaro role from Mozart's The Marriage of Figaro if you're curious.
Basso Buffo roles often provide more personality than lyricism in a given opera. Basso buffo singers need to demonstrate a beautiful and rich tone (despite the antics of their roles, bass buffo roles rarely call for any harshness of sound), and a degree of comfort regarding agility, coloratura, and patter singing techniques. Give Leporello's role from Don Giovanni a listen to hear an example of buffo singing.
Basso Profundo vocalists sing in either a lyric or dramatic style. As you know by now, lyric profundo basses posses a smoother and warmer vocal quality suited to lyrical roles, while dramatic profundo basses will sing in a more "thunderous" manner. An example of a lyric basso profundo role would be Rocco from Beethoven's Fidelio. Duke Bluebeard from Bartok's Bluebeard's Castle and Mephistopheles from Gounod's Faust would demonstrate true dramatic tendencies, and Wagner also wrote significant Basso Profundo roles into his Ring Cycle.
Are you interested in finding out what your true voice type is? Sign up for a risk free trial lesson with one of the professional teachers in our network. If you would like to learn about the history and structure of opera, stay tuned for our upcoming posts about the different parts and eras of the opera genre.