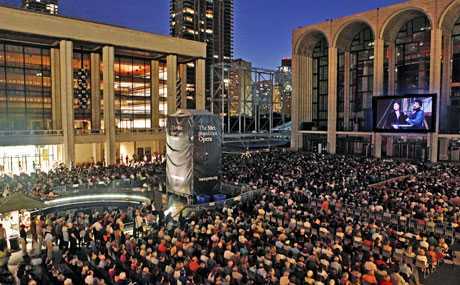 by Sarah Hucal
The late-August sun was beginning to set, casting a warm glow over Manhattan's Lincoln Center Plaza at 64th and Broadway. Facing the Metropolitan Opera House stood three thousand metallic chairs, their occupants wearing anything from baseball caps and tank tops, to expensive loafers and suits. Some in the crowd appeared to be tourists, their over sized shopping bags perched precariously on nearby seats, while others had clearly come from a long day at the office, still dressed in their business best. Whatever their status, visitor or local, alone or in a gaggle, one thing had brought this diverse crowd together: opera.
At precisely 7:45 pm, a large screen attached to the facade of the Met burst into color as an HD video of last season's Philip Glass opera, Satyagraha, began. The sound system was superb. It felt as if the production's leading tenor, Richard Croft, was there in the plaza rather than on a video recording taken nearly a year ago. The audience reacted with excitement as palpable as if it were opening night inside the grand opera house.
This year marks the fourth anniversary of the Met's free Summer HD Festival, a ten-day screening event featuring the company's award-winning Live in HD opera productions. Last year, over 40,000 people were in attendance and it's no wonder why: the laid-back viewings provide an excellent opportunity to see opera's greatest performers in a comfortable outdoor environment.
Fortunately, the HD action isn't limited to New York City. Thanks to The Met: Live in HD series, there's a good chance that the legendary performers of the 2012–13 season will be appearing at a theater near you.
"Our live transmissions continue to transform the public's perception of opera and to excite our performers and our audiences around the world." said Met General Manager Peter Gelb.
Indeed, the public has clearly become enraptured. In the seven years since the first broadcast aired, The Met: Live in HD network has grown to an enormous scale, with productions shown in over 1900 theaters and 60 countries, from Ecuador to Qatar. This year, over three million tickets are expected to be sold worldwide – more HD opera-goers than ever before.
Through this exciting series, long distance fans get a glimpse of everyday life at the opera house. The broadcasts feature cast, crew and production team interviews as well as exclusive behind-the-scenes programming hosted by the Met stars such as Renée Fleming, Joyce DiDonato, Eric Owens, and Deborah Voigt.
The film fun begins on October 13th with a screening of the upcoming season's premiere, L'Elisir d'Amore. Donizetti's beloved comedy stars one of today's diva supremes, Anna Netrebko, as the capricious landowner Adina, while the charming Matthew Polenzani portrays her suitor, the starry-eyed Nemorino. Hilarity ensues when Nemorino enlists the help of Doctor Dulcamara, a love potion-peddling quack to win Adina from her haughty fiance Sergent Belcore. As director Bartlett Sher says of the production "It's an opera that's great entertainment, and it's an opera that has something else happening underneath."
The season continues with seven new productions, two of which are world premieres. One debut worthy of watching is British Composer Thomas Adès' modern masterpiece, The Tempest (November 10). The opera stars the dashing baritone Simon Keenlyside as the excommunicated Milanese duke, Prospero, in a production that director Robert Lepage called an "extraordinary, exquisite composition" that "captures the magic of Shakespeare's last play. It is a box full of magic tricks." And with the director's flair for extravagant stagings, viewers can surely expect plenty of scenic surprises.
Other season highlights include Giuseppe Verdi's tragic Otello starring soprano Renée Fleming, Verdi's Aida with dramatic Ukrainian soprano Liudmyla Monastyrska in the title role, and Wagner's epic Parsifal led by dashing tenor-supreme, Jonas Kaufmann.
For the more information about locations and ticketing, visit the Met's website at www.metopera.org/hdlive. Now that everyone can enjoy Saturday afternoon at the opera, sit back, relax, and be blown away by the visual and auditory adventure that is The Met:Live in HD.
Article: Sarah Hucal