By Sarah Hucal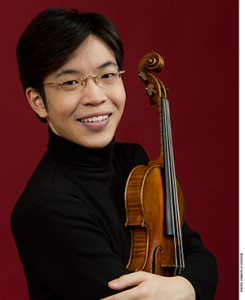 Meet Paul Huang, a 22-year-old Taiwanese-American college student, lover of culinary arts, and veritable violin virtuoso. As the winner of Young Concert Artists 2011 International auditions, Paul is about to be launched into stardom.
Always on the lookout for tomorrow's next classical superstar, YCA holds annual auditions in Europe and the US, selecting winners who are not only technically superb, but have "brilliant charisma and insight in their playing," as YCA director Susan Wadsworth shared.
Wadsworth founded the organization in 1961, and since then, the international competition has become something like the American Idol of the classical world – winners receive a three-year ongoing management contract that practically paves their path to success. The long list of venerated YCA competition winners serves as proof, starting with violinist Jeremy Denk, pianist Emanuel Ax, and soprano Dawn Upshaw, to name a few.
In anticipation of his October 30th concert at Manhattan's Merkin Hall, the young violinist speaks candidly about his musical background, influences and Italian adventures.
First of all, congratulations on become a Young Concert Artist. What are you looking forward to the most this season?
It's an honor to open the 52nd season of YCA concert series. I haven't played an official recital debut in New York City yet, so this is exciting. I've picked a program I love and am 100% comfortable with, and hopefully the audience will enjoy it!
I'm sure they will. This is your first concert in New York but you've been performing all over the world. What was one of your favorite concert experiences so far?
Last year I was honored to gave my Paris debut in a prestigious series at the Louvre museum. They gave me a pass to the museum for three days and I saw Mona Lisa three times. That was amazing!
Talk about job perks! So, what made you choose the violin in the first place?
Actually, my parents took me to a violin lesson when I was four and I hated it. Nobody at age four sounds good on a violin, it's just awkward and you never make good sounds. I told my mom I wanted to start playing piano instead. When I was seven, we went to a violin recital and I was immediately amazed at how this little wooden box could project through this 2,000 foot hall without any amplification, and the performer had an amazing stage presence. Right after the concert, I told my mom I wanted to start violin lessons; I didn't even remember that I had already taken one at age four and hated it!
Who were your violinist idols growing up?
I love David Oistrakh and Yo-Yo Ma, I grew up listening to their recordings. It's just so wonderful that we now have access to media on the internet and on YouTube. You get to see and hear the great masters whenever you want and it's a great way to learn more about classical music.
When you first starting playing violin, did you have teachers that really inspired you?
Of course! My first violin teacher was relatively young at the time, she had graduated from a conservatory in the US and had come back to Taiwan to teach. She was such a loving teacher and really introduced me to classical music, not only helping me learn how to play the instrument, but also how to be a musician and an artist. Picking the right teacher is really important, since the student and the teacher have work well with each other.
What other influences have helped you to get to where you are now?
My parents. They aren't professional musicians but they are music-lovers. We would often go to theatre, ballet and classical concerts when I was young, so my interest in music was very natural to me, it wasn't forced at all. I've seen parents who force their kids to play a certain instrument, and the kids often end up not wanting to play music at all. On the other hand, the child needs to be encouraged to practice because it's essential in learning. Having this kind of balance is difficult, there's no right or wrong answer.
Was there a period in your life when you didn't want to practice?
I think very few people enjoy practicing, including myself. The most difficult time is when you first start playing an instrument, but if you enjoy your instrument you'll want to practice, and you'll have the discipline you need later to become a professional musician.
What can students do to learn more about classical music?
Go to concerts.The experience of going to concerts with my family and talking about them afterwards really opened my mind to classical music. If it's not possible, listening to recordings at home is great, although it doesn't have the special live element of attending a concert.
Do you have any other passions aside from playing the violin?
I love eating! And I enjoy cooking, although I'm not that great of a chef yet. In some ways you can relate food to playing music, it's kind of an art form.
Any favorite food experiences?
Last year I was in Cremona, Italy, which is very famous for violin-making; the great violin masters, Stradavarius, and Gaurneri were born there. I had the opportunity to give a recital at the Stradivarius museum and got to stay in the town for three days. I ate wherever I could, the pasta and the pizza were unbelievable!
Did you take home any recipe ideas?
No, but I took lots of pictures!
Article: Sarah Hucal
Photo: Christian Steiner