Most parents of aspiring violinists wonder what is the best age to start violin lessons. Along with the piano, the violin is recommended for children as young as four – many young students will begin with the Suzuki Method. Also, violin manufacturers make a range of short-scale instruments that are perfect for younger children. One factor to keep in mind is the child's strength in their hands and fingers regarding the strings and in using the violin bow. There are some care taking measures for the violin, including maintenance of the bow and strings, that may prove somewhat difficult for younger students (see our article on string accessories for more information).
Three factors to consider: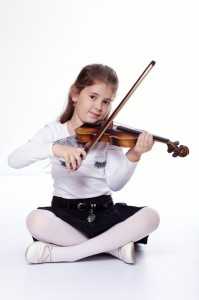 Academic ability
Physical ability
Emotional maturity
A young violin student must have a minimum level of academic ability in order to succeed with private lessons. Counting ability is very important, and usually they should have begun learning to read as well.
They should also have good physical dexterity in their hands and fingers, and be able to understand which hand holds the violin, and which the bow, so they have to know left vs. right.
Every music lesson student also should have the emotional maturity to work with their teacher for at least a 30 min lesson, while staying focused with good behavior. In addition, they will need to practice at least 15 min every day once the lessons begin in order to improve and have productive lessons.