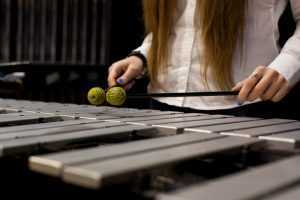 The follow-up to my last post, Great Drummers (Who Happen to be Women), seemed obvious- Great Percussionists (Who Happen to be Women)! Of course, drawing a clear distinction between the drummer and the percussionist can in many cases be a tricky endeavor. So, for the purposes of this post, we will be focused primarily on classical percussionists, on musicians who straddle many genres (or are simply uncategorizable), and others for whom the drum set is not a primary instrument.
As noted in the previous post, we all need role models that we can see ourselves in, people that we can easily identify with, and people who demonstrate that our goals and ambitions are valid and achievable. Unfortunately, our society has had a tendency to assign gender expectations to various instruments, obviously not at all based in reality. The aspiring young percussionist may see more men than women playing percussion and find herself wondering if the field is right for her. The truth is, however, that many women are at the top of the field in percussion.
We'll begin with one of the most influential marimbists of the last century:
Keiko Abe
Keiko Abe's role in the development of both marimba technique and design cannot be overstated. Both a composer and a marimbist, Abe worked closely with the Yamaha Corporation to develop the modern five octave marimba, now standard for soloists. She began performing professionally at the age of 13, and went on to host two Japanese TV shows dedicated to promoting mallet instruments. She also wrote several pieces that have become standards of the marimba repertoire and has inspired generations of young percussionists. Here she is performing her own composition, Michi:
Evelyn Glennie
To say that Evelyn Glennie is a legend among percussionists is for once an understatement. Not only an extraordinary virtuoso soloist that has tackled nearly every conceivable percussive idiom, she has achieved that as a deaf musician. It seems almost unbelievable, but in the documentary Touch The Sound she describes how she learned to feel all the differences of pitch and timbre in the vibrations that are sound. She literally 'hears' with her whole body. To this end, she typically performs barefoot, feeling the music coming through the floor. She has commissioned numerous new works and is active internationally as a performer and clinician. Though primarily working as a classical soloist, her career has included numerous collaborations with musicians from other areas of music.
Ruth Underwood
Though classically trained at Julliard, Ruth Underwood grew bored with her studies after experiencing Frank Zappa's band during their residency at the Garrick Theater in New York. She joined the band primarily as a mallet percussionist, playing both marimba and vibraphone, and went on to record over twenty albums with the group. A virtuoso on her instrument, she was a perfect fit for Zappa's complex and demanding compositions, and his love of incorporating sounds and colors not typical of rock music. Going on to work as a session musician on a number of other projects, Underwood largely retired from performing and recording in 1980. She now devotes her free time to giving free music lessons to underprivileged children. Here she is with Zappa's band in 1973- I've started the video at her pretty wild solo:
Pei-Ching Wu
Among marimbists, Pei-Ching Wu is unusual in her advocacy (and perhaps nearly unique in her mastery) of six-mallet playing (two to four being the norm- though as we'll see soon, some are pushing even a little further). Leader and founder of the Ju Percussion Group (based in Taiwan), Wu has also commissioned and premiered numerous solo marimba works for six mallets. The recipient of a number of awards, she also currently teaches at no fewer than three universities in Taipei, and continues to perform worldwide. Bonus fact: One of Wu's teachers was Keiko Abe.
Check out this stunningly theatrical and technically jaw-dropping performance (excerpts):
Jane Boxall
As unusual as six-mallet playing remains among percussionists, a very few are attempting to develop technique for seven or eight. Notable among them is Jane Boxall, an extraordinarily eclectic and versatile musician who, though specializing in marimba, plays drum set and other percussion just as frequently. Her recording Zero to Eight Mallets explores just that- a series of pieces progressing from using no mallets (Boxall's own composition Sambai, played with the hands) through the final work utilizing eight. Field Notes is a fascinating collection of layered improvisations (accompanied by her own field recordings that give the collection its name), compositions, and even a song cover. Boxall tours internationally as a concert musician, session drummer, and clinician.
https://janeboxallmarimba.bandcamp.com/
Nancy Zeltsman
Another renowned marimba soloist, Nancy Zeltsman has been professor of marimba at both Boston Conservatory and the Berklee Academy of Music (which merged in 2016) and a regular guest professor at the Conservatorium van Amsterdam, in addition to being the founder of the Zeltsman Marimba Festival, an annual two-week festival of lessons, masterclasses, lectures, and concerts. With her critically acclaimed duo Marimolin (with violinist Sharan Leventhal), she made a number of ground-breaking recordings and greatly expanded the repertoire through numerous commissions. Here she is with clarinetist Michael Norsworthy:
Patricia (Patsy) Dash
In 1986, at the tender age of 24, Patsy Dash was appointed to the percussion section of the Chicago Symphony by the late great conductor Sir Georg Solti, just three years after receiving her Bachelor's degree. Prior to that, she had held the principal percussion position in the Philharmonic Orchestra of Florida, and has since gone on to perform with such notable groups as the Ensemble Intercontemporain (Paris), Chicago Pro Musica, the Chicago Chamber Musicians, and others. In the mid-90s she created a percussion program for gifted students in the Chicago area that has itself gone on to give a number of notable performances. Here she is masterfully performing Delacluse's classic first etude for snare drum:
Susie Ibarra
Equal parts drummer, percussionist, and composer, Susie Ibarra's list of projects and collaborators is quite impressive, running the gamut from jazz musicians, rock musicians, avant-garde classical composers, players of classical Indian music, and more. Of particular interest to her is the combining of contemporary approaches with various folk traditions and instruments of various cultures. She often plays the kulintang, a melodic set of knobbed gongs found in the Philippines and other parts of Southeast Asia. She has been named 'best percussionist' in both the readers' and critics' polls in Downbeat Magazine. Here she is in a duo percussion and electronics performance with Robert Rodriguez- she begins on the drums, and at around the four minute mark, switches to kulintang:
So, featuring just eight percussionists is obviously only scratching the surface (perhaps another follow-up is called for), and only having space to briefly introduce each one, I hope this inspires you to not only learn more about each of these extraordinary musicians, but to look even further into others in the field. See you next time!