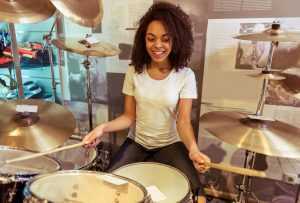 The importance of role models that an individual can strongly identify with is well-documented in all fields- but a cursory look around can lead a young student to the conclusion that there aren't many great female drummers, and consequently, that they lack strong role models. In addition, drums and percussion are all too often perceived by many to be 'masculine' instruments, and a student may find herself steered in another direction by adults in her life with conscious or unconscious biases. While it is true that, like many other instruments, the field is largely dominated by men, a more careful look reveals many top-notch drummers (that happen to be women), and that in fact, women have played a prominent and vital role in drumming and percussion throughout recorded history. I'll just briefly introduce you to some notables in a variety of styles, and encourage you to read more about them, and of course, to listen to their work!
Layne Redmond
The late (and great) hand drummer, historian, and educator Layne Redmond noticed early on in her studies that in ancient depictions (Greek, Roman, Mesopotamian, Egyptian, etc.), drummers were almost always women. Intrigued by this, she went on to write a wonderful book called "When the Drummers Were Women". An article she wrote of the same name for Drum Magazine can be found here: When The Drummers Were Women
Redmond herself was a highly accomplished drummer, but sadly passed far too young in 2013 at the age of 61. However, her many instructional videos, as well as numerous recordings, are still available and continue to inspire many.
While I am a huge fan of the frame drums that Redmond specialized in, I suspect that most readers of this blog are more eager to hear about female drummers who are great players of the drumset, and there are many! Let's take a look at a few of them, in no particular order:
Cindy Blackman-Santana
Cindy Blackman-Santana is one of the most admired female drummers on the scene today. Performing in both jazz and rock genres, she first rose to prominence drumming for Lenny Kravitz. Since then, she has released several jazz albums as leader (and composer), as well performing with such jazz luminaries as Cassandra Wilson, Sam Rivers, Pharoah Sanders, and many others. Additionally she is the touring drummer for Carlos Santana (to whom she is married). Check out her explosive mix of power and technique in this performance from super group Spectrum Road:
Sheila E.
Born to an astonishingly musical family, Sheila Escovedo- better known as Sheila E.- took the 80s by storm as a drummer, percussionist, singer, and songwriter. Before becoming famous working with Prince, she had already performed with a number of renowned jazz and pop musicians, including Herbie Hancock, Marvin Gaye, and Diana Ross. In addition to her extensive work as a drummer and percussionist, she has had enormous success as a singer-songwriter, and has appeared as an actor in several films. Hear her stunning chops here:
Meg White
Certainly one of the most visible female drummers of the last twenty years is Meg White of the White Stripes. White's powerful, minimalist style- often described as 'primal'- was perfect for the duo's stripped-down blues rock. In addition, she frequently sang with the group as well. Famously private, White appears to have retired from music following the disbanding of the White Stripes in 2011. While their (arguably) most famous song, 'Seven Nation Army' perfectly exemplifies her style (as well as her subtle articulation of the song's structure), take a listen to her loose flow and unorthodox groove in 'My Doorbell':
Rachel Blumberg
While not as familiar perhaps as some of the others on this list, Rachel Blumberg has a very impressive list of indie rock credits, having performed and/ or recorded with the Decemberists, Califone, Bright Eyes, M. Ward, She and Him, and many others. Not only a drummer, Blumberg also plays accordion, piano, banjo, and ukulele, and is additionally an accomplished visual artist and director of short films and music videos. Gotta wonder when some people sleep! Listen to her driving tom tom groove on the Decemberists' Infanta:
Karen Carpenter
Karen Carpenter may come as a surprise on this list to readers of a certain age (at least if they never saw her variety show), who will remember her as the singer for 70s soft rock group The Carpenters. However, she was a drummer before she was known as a singer, and was unusually able to drum and sing simultaneously without compromising either (a notoriously difficult task). Praised by legendary drummers Hal Blaine and Buddy Rich, her technical prowess was formidable. Sadly, Carpenter suffered from anorexia, and that ended her life at a very young age, but her death resulted in far greater attention to the disease, which was poorly understood at the time.
The following video is from a BBC showcase, and while it is pretty corny by today's standards, it does its job in highlighting her drumming chops. It takes a while to get to the point; Carpenter enters the stage at about the minute mark:
Bobbye Hall
One of the most impressive careers among session musicians is that of percussionist Bobbye Hall. Beginning her career recording for the Motown label, Hall went on to perform and record with a dazzling array of stars- too long to list, but including Stevie Wonder, Bob Dylan, Bill Withers, Diana Ross, Carole King, Pink Floyd, Marvin Gaye… you get the picture. Playing a wide variety of percussion from hand drums to drumset, she played on 22 top ten songs, with six of those reaching number 1. As far as I know, the number of records she played on has not been figured definitively, but the website discogs lists 349! Here's a short documentary on her:
The late 70s and early 80s gave birth to a number of all-female rock bands- many had female drummers worthy of mention, but here are a couple I consider particularly notable:
Gina Schock
Formed in 1978 in LA's bourgeoning punk scene, the Go-Go's quickly turned to a bright pop/ new wave sound for their first record in 1981. Their drummer Gina Schock helped retain their initial punk drive with her powerful and minimal style. Today, Schock is also an accomplished actor, producer, and songwriter, and has written songs for Miley Cyrus and Selena Gomez, among others. Offered here- resisting the urge to indulge any obvious drummer puns- is the Go-Go's breakout hit:
Debbi Peterson
On the other end of the spectrum of early 80s pop styles lay the Bangles, who wore their 60s psychedelic influences on their sleeves, especially early in their career (before luminous fans like Prince began writing songs for them). Drummer Debbi Peterson also frequently carried lead vocal duties, and like Carpenter before her, drummed and sang simultaneously with aplomb. Here she is doing just that on one of their early and most 60's-inspired tunes:
Female Drummers as Role Models
As I said at the beginning, we all need role models that we can identify with. I hope this inspires you to listen more, not only to these extraordinary female drummers, but to the many others that space would not allow for. In future installments, I will cover great classical percussionists (who happen to be women), as well as the virtually forgotten, but fascinating mid-20th century phenomena of all-female marimba bands!