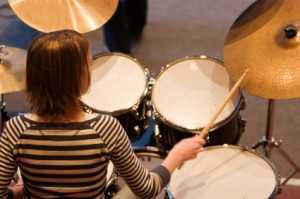 Different styles of music require different styles of playing, and this is no exception for drummers. A good drummer can be great in one particular genre, but a great drummer is well-versed in several different ones. Each style requires a different approach and possesses its own sense of rhythm and timekeeping. Here are five essential drumming styles for every drummer:
1.) Rock and Punk – these two are the most energetic genres for drummers. Players not only keep time, but can also add an extra flourish to their playing by way of playing "fills" on their drums between beats. Punk music is often faster and more aggressive than rock music. Some notable Rock drummers include Keith Moon of The Who, Dave Grohl of Nirvana, and Ringo Starr of The Beatles.
2.) Funk and R&B – these two styles are the most laid-back, but also require the most restraint for players. In both Funk and Rhythm & Blues (R&B), drummers not only keep time, but their playing style is more relaxed, creating what drummers call a groove or a "pocket." For players with a lot of experience playing rock, it can sometimes be difficult to play simple, laid-back beats. Notable Funk and R&B drummers include Buddy Miles from The Jimi Hendrix Experience, Motown session drummer Benny Benjamin, and Al Jackson from Booker T. & The MG's.
3.) Reggae – this style incorporates some of the laid-back playing from Funk and R&B, along with its own unique method of timekeeping. Players will frequently reverse the emphasis of the beat by playing the bass drum instead of the snare on the downbeat. This technique is called the "one-drop" pattern. Reggae drummers will also play arrhythmic beats on the hi-hat. Playing arrhythmic beats is called syncopation. Notable Reggae drummers include Carlton Barrett from Bob Marley and The Wailers, Topper Headon from The Clash, and Sly Dunbar from the Peter Tosh band.
4.) Jazz – jazz playing is almost a creature all its own. Jazz drummers frequently play around the beat, employing syncopated rhythms played in swing-time. It is the most complex style of playing and requires the most discipline in terms of knowing when to play difficult rhythms and when to simply lay back and keep time. Notable Jazz drummers include Gene Krupa, who played with the jazz legend Benny Goodman, as well as bandleader Tiny Bradshaw.
5.) Latin – Latin drummers incorporate all of the above styles into their playing, frequently relying on rhythms that are syncopated, complex, and energetic. Another characteristic of Latin music is its reliance on percussion instruments such as congas, timbales, and cowbells. The most famous Latin drummers are Tito Puente, Mongo Santamaria, and Candido Camero.
If you're just starting out and aren't sure which grooves to try first, or just need a fresh idea to get your creative drum juices flowing, check our our article "Five Cool Drum Beats for All Drummers"