There's something incredibly meaningful and possibly even sacred about seeing good music performed live. An experienced band or artist unabashedly performing the perfect song at just the right moment has the power to change a listener's life. I've experienced this feeling seeing Arcade Fire perform at Red Rocks Amphitheater in 2010 and more recently at an of Montreal show in Philadelphia. The irony of the live music experience is that it takes months or even years of tireless hard work and practice for a band to sound tight, confident and in control enough to be able to play even a short set of solid music. This can be a difficult truth to accept, but if you're a musician trying to take your songs from your bedroom to the stage, every great band has been in your shoes when they got started in their careers. I've got some helpful tips on how to book your first gig for you in this article.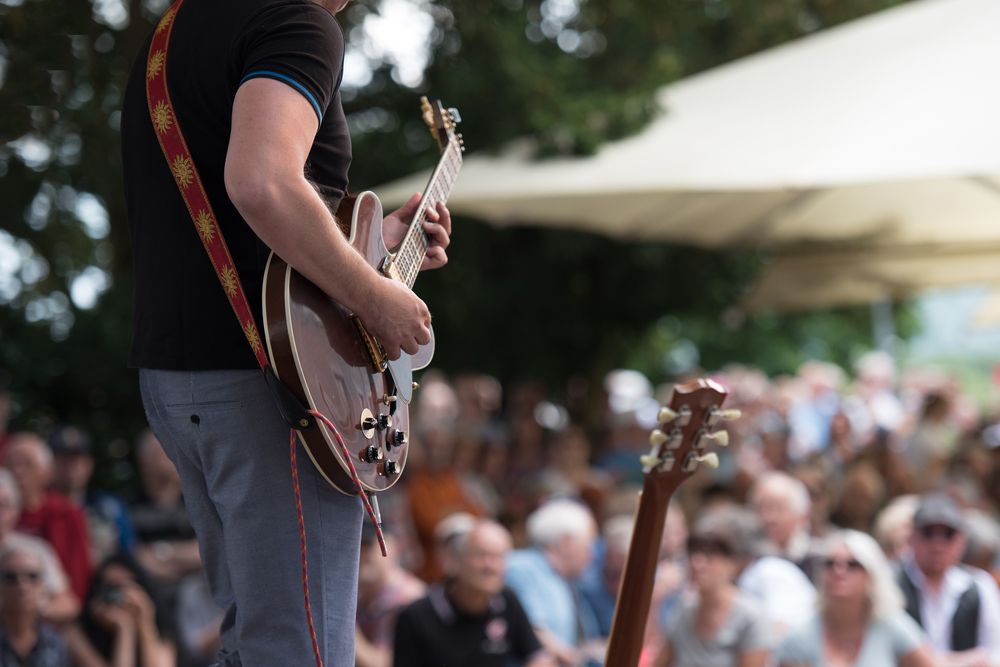 In my decade of writing and performing music seriously, I've played some of the best—and worst—venues in the country. I started writing music when I was in my teens. I wanted to start a band, tour, get signed to a big label and make music for the rest of my life. In college, I started an indie pop band and we quickly got to work writing music and practicing. After a few months of work, we set out to book our first show and quickly realized that we'd have to become savvy on the non-music side of things if we ever wanted our band to go anywhere. After years of trial and error, two name changes and hundreds of shows, we finally began to achieve a small amount of success.
We signed a publishing deal, opened for big bands like The Oh Hellos and Minus The Bear and even got to perform at Red Rocks Amphitheater in 2014. We eventually parted ways, but were grateful for all the incredible things we got to experience during our time playing together. Nothing good would've happened to us if it wasn't for the hard work we put into learning how to book shows. Learning how to book your first gig the right way will give you the tools and strategies you need to be successful booking shows and tours for your band in the future.
Play, practice, plan and record
You shouldn't even think about booking a show until your band has five or six polished songs written, rehearsed and ready to play. But even if you've got enough songs to play a set it probably won't matter to the talent buyers in your hometown (talent buyers are the folks who book shows at venues). Don't reach out to venues until you've taken the time to record demos or full mastered versions of a few of your songs.
Think of it like a job interview. Who is more likely to get a job; someone who applies with with a thoughtfully crafted resume and cover letter or a dude who calls up the manager at a company and says, "Sup. I want to work at your company,"? There's a popular misconception among musicians and non-musical folk alike that professional customs don't apply to the music industry. This is simply not true. Like other businesses, talent buyers and venues look to work with bands that have proven experience. At the very least, a talent buyer needs to hear what your band sounds like in order to put you on a bill of other bands and artists that sound similar to you.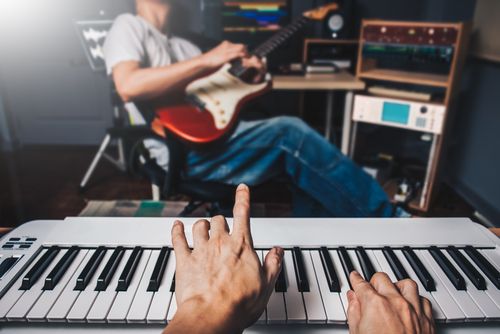 Luckily, in 2017 there's never been more inexpensive ways to record professional-grade tracks of your music. A few hundred bucks can buy you recording software, a few microphones and other equipment you'll need to record your own music. There's also a plethora of free articles and video tutorials out there on DIY recording to help guide you along the way.
It takes a ton of time to write songs, record and put a set together, so awesome job if you've gotten this far. Now you're ready to pitch to local venues.
Finding the right venue for your first show
The right venue for your first show entirely depends on your background, experience and sound. For singer-songwriters, reaching out to small coffee shops that host shows in your town is a good bet. Full bands will obviously want to reach out to actual venues with stages and sound systems. Unless you or someone in your band has real show experience, it's probably a waste of time to try to get booked at big venues. Always keep in mind that music venues are like any other business in the fact that they're usually interested in making as much money as possible. Your chances of booking your first show at a 2,000 capacity venue are slim to none unless you're wrapped up in some sort of pay-to-play scam (watch out for those). Look for small venues that host shows with bands who play music similar to yours.
It's also a good idea to broaden your horizons when it comes to being open about the sort of places you want to perform at. Some of the best and most memorable shows I've ever played have been in people's living rooms. House shows don't feature big stages or fancy sound systems, but there's a unique intimacy in them that gets lost at bigger venues. If there's someone in your scene who throws house shows, consider contacting them and setting up a show there.
If you're still in the "working out material" stage with your music, it might be a good idea to play a few songs at local open mic nights in your city. Playing at a few open mics is an easy, low-pressure way to get performing experience.
Writing a solid pitch over email
Most show booking is now done exclusively over email. Talent buyers are barraged with a constant stream of poorly written emails from bands trying to get booked. Taking the time to write a cohesive, grammar error-free pitch over email that clearly lays out who you are and what you want will already give you a considerable advantage over many other bands in your area— even before the talent buyer has a chance to listen to your music. No, taking the time to write emails isn't as fun or meaningful as playing music, but it's an important skill that will set you or your band apart.
Before you say, "Hey, managers and booking agents are the ones that are supposed to do all the boring stuff!," it's important to note that music industry folks won't give you the time of day until you've got some real music experience under your belt. The only way to get this valuable experience is by playing shows in your hometown, and you'll have a much better chance of booking shows if you take the time to write solid, thoughtful pitches to talent buyers over email. See what I'm getting at?
A good pitch should include your band name, a short description of what you sound like, your relevant experience (if you have any), links to websites where your music can be streamed and a few suggestions for shows you're interested in opening. If there's a member of your band who has good writing skills, don't be afraid to designate this job to them. Bands can only effectively tackle the business side of things if they work together to make plans and set goals.
Even the most solidly crafted show pitches don't get responses sometimes. It's important to be persistent but not annoying. If you haven't heard back after a few days, send a follow up email.
Don't be afraid to get told "no"
You will absolutely get told "no" in the music business no matter who you are or how great your music is. It's an unavoidable part of the entertainment industry, but it's hugely important not to take rejection personally. It's important to listen to feedback from the talent buyers in your scene and move forward accordingly. If a venue tells you they like your music but that you aren't ready to play their club, then it's most likely because your band hasn't proven yourself yet. Remember, at the end of the day, venues are interested in getting bodies through the door and money in their pockets. A venue having your new and unknown band come play is a risk because they have no way of knowing how many people you'll bring.
This is why you need to make your first show a big success when a venue decides to take a chance on you. Make posters. Invite your friends and family. Get as many people to come as possible. Venues will absolutely want to work with you if you make decent music and bring people out to shows.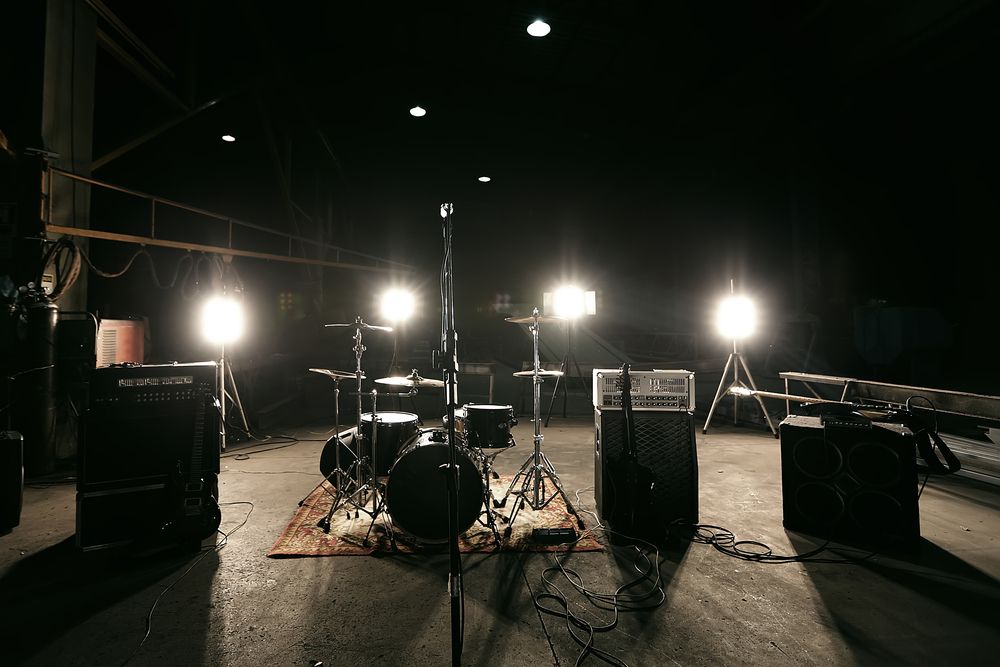 After the first show
After you've figured out how to book your first gig, you'll need to focus on finding fans and getting on better shows. If you've got good music, ambition and a plan, it'll just be a matter of time before venues, press outlets and fans in your city take notice. Once you've got a few shows under your belt, you'll be able to get spots on bigger bills and opening spots for bands coming through your city. For more helpful articles about the world of music, check out the Musika Lessons blog.