With all the advancements of technology and popularity of the Internet, pretty much anything can be learned online these days, including piano lessons. While some may believe online lessons to be inefficient and impersonal compared to more traditional in-person lessons, online piano lessons can be the best choice for many individuals! When determining if online piano lessons are right for you, here are a few things to keep in mind.
For those with a busy or hectic schedule, online piano lessons can be especially beneficial as it eliminates traveling time. A simple push of the button to turn on the computer is all that's needed to set up the lessons. This also allows for the student to schedule lessons at times convenient to their schedule, which works especially well for those with rotating or inconsistent schedules. Parents or beginner adults with full-time jobs will surely appreciate the ease with which lessons can be taken.
Another factor to consider is the available space in which lessons will take place. It's best to dedicate a specific area for lesson and practice space.  A busy living room with family members constantly passing through is most likely not a good setting as it can lead to distractions on both student and instructor end. But on the other hand, this can be a great option for those in smaller living areas, such as individuals looking for online piano lessons in NYC, but would still like the benefit of in-home lessons.
With so much time spent online these days, especially for those under the age of 18, lessons taken via Skype or FaceTime can spark interest in students who may have previously thought of piano lessons as boring or chore-like. The familiar setting of an online activity may lead the student to take initiative in learning and practicing piano more diligently.Online lessons may also benefit shyer students who may not be comfortable interacting with an instructor they are not familiar with face-to-face. It can also be a good way for students to test the waters, if they are unsure of how interested or committed they are.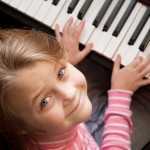 Lastly, online lessons are really great for those on a budget. Online lessons tend to be less costly than traditional lessons as it eliminates the added costs of traveling, such as gas or public transit fares, and having a studio space. Online piano lessons can also be great for individuals living in rural areas where there may not be as many instructors available. This allows the student to take a lesson in the comfort of their home with a teacher anywhere in the country.
Taking piano lessons online offers a fun and enjoyable learning environment for both student and instructor. Signing up for online lessons with Musika allows us to put you in touch with one of the great instructors in our network for a trial lesson. There's no better time than now the get started!