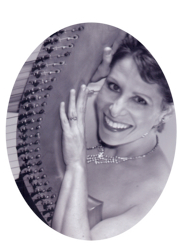 A Conversation with Anne Roos, Celtic Harpist
Anne Roos is a California based Celtic harpist, author, and teacher. Anne is widely considered to be at the top of her field as a Celtic harpist. She has recorded an extensive amount of music and is in constant demand for live performances and as a harp teacher.
We were fortunate enough to speak with Anne about her experiences with learning to play the harp, some of her musical inspirations and tips for beginning to play a musical instrument:
MusikaLessons.com: How old where you when you began playing the harp?
I had just graduated college, in my early 20s.
How did you decide to focus on the harp? Did you begin with other instruments or has it always been the harp?
My initial focus was on vocal music. I performed in madrigal groups at the Northern and Southern California Renaissance Fairs. I started playing the harp quite by accident—Call it serendipity. I attended a Winter Solstice festival at California State University Northridge, and there was a lady sitting in a booth surrounded by little harps. She told me that if I wanted to learn how to play that she'd rent me a harp and teach me how. At the time I had a very stressful job so I jumped at the opportunity and never looked back. The lady sitting in that booth was Sylvia Woods, a very well known harpist in today's harp circles. It was a matter of being in the right place at the right time and going for something that I thought would be wonderful fun.
MusikaLessons.com: When you began playing was it difficult to find a harp teacher?
Anne: No, fortunately my harp teacher found me! I was lucky.
MusikaLessons.com: That's great! Often times it is difficult for students to find music teachers in their area for even the most common instruments such as piano and guitar, I would think this could be even more difficult with the harp.
Anne: Yes, there certainly are fewer harp teachers when compared to many other instruments. I do teach online and have found many students this way.
MusikaLessons.com: What is your favorite genre to play?
Anne: I love playing all kinds of music, especially music that my audience requests, simply because I like the challenge. But I always come back to my original love of playing the kinds of music that was originally written for the Celtic Harp: Renaissance music, Early Music, and Celtic music.
MusikaLessons.com: What other musicians, harp players or not, inspire your music?
One of my favorite harpers of all time is Alan Stivell, because he constantly reinvents the way he plays the harp and how he arranges it with other instruments. As for other musicians that have inspired me, they include Victor Borge, Harpo Marx, and Liberace. You may laugh, but they were excellent performers as well as entertainers. They were charismatic. They brought many people to great music who would have otherwise not been exposed to it. I believe that to be a fine musician, it's about more than just playing an instrument well. It's about telling a story with the music and entrancing the audience.
MusikaLessons.com: What tips can you give to anyone looking to begin playing the harp?
Find a good teacher. Don't worry about having an instrument, because a good teacher will help you locate a rental or an inexpensive harp for purchase. A good teacher will show you good technique that will be healthy for your hands, and a good teacher will keep you motivated.
MusikaLessons.com: Thanks, Anne!
Anne: My pleasure.
You can find out more about Anne and her music, the Celtic harp, and about taking online harp lessons on her site at: www.CelticHarpMusic.com