Easy Guitar Chords Arranged for Beginners
Tim Bergling is a Swedish DJ and electronic music producer. You may recognize him better by his stage name, Avicii. "Wake Me Up" is a song written and produced by Avicii and it was released as the lead single from his debut studio album, True (June 17, 2013). American soul singer Aloe Blacc provides vocals and Mike Einziger of Incubus plays the acoustic guitar.
Bergling has been nominated twice for a Grammy Award, once for his work on "Sunshine" with David Guetta in 2012 and once for his song "Levels" in 2013.
Useful links:
Song Specs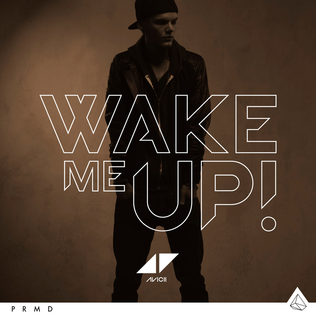 Title: Wake Me Up
Artist: Avicii
Songwriters: Tim Bergling / Aloe Blacc / Mike Einziger
Album: True
Key: Bm
Tempo: 124
Chord Progression: Bm–G–D–A
Accompaniment Technique: First-Position Chords and Strumming Techniques
Playing Tips
Here are some helpful tips to keep in mind that will help you learn the tune faster while giving you some ideas for how to approach performing it. I provided some useful links above and I'll take you through the chords, accompaniment patterns, song form and a chord chart. Everything you need to get started playing this tune.
Wake Me Up Chords
| | | | | |
| --- | --- | --- | --- | --- |
| Chords | Bm | G | D | A |
| Progression | i | bVI | III | bVII |

"Wake Me Up" is a driving acoustic guitar number and we're gonna use Mike Einziger's performance as our reference point.
The song is in the key of Bm and we're gonna approach this from a pick-strumming standpoint. I choose this approach because this is more representative of the original recording. You can use a finger-strumming approach and that can offer many more options and textures than strumming with a pick. However, I do encourage you to approach the song however you see fit and feel most comfortable. These are just my suggestions.
Accompaniment Techniques
This would be my fingerstyle approach to this tune and I've broken it down into two basic techniques.
Bass Chord:

Here, we separate the thumb and fingers to create more of a rhythmic feel. The aim is to use the thumb to replicate the sound of the bass drum and then freely add the fingers. This creates a pianistic effect.

Finger Strums:

I use the I-M fingers in the same way that I use a pick except that I brush the strings lightly. This creates more energy and motion. Perfect for increasing the intensity of the song, especially during the chorus.
Basic Fingerstyle Technique
I've included this section for those of you that may be interested in fingerstyle playing. The right hand is notated as follows:
P = Thumb

I = Index

M = Middle

A = Ring
I find that using a pick to strum the chords can be a little too harsh sounding for the mood of some songs. For that reason, I suggest developing your fingers to pluck and strum the chords. Let's begin by assigning the right-hand fingers to certain strings:
The Thumb (P) plays the bass note:

The Index (I) is assigned to the 4th string.

The Middle (M) is assigned to the 3rd string.

The Ring (A) is assigned to the 2nd string.
This is the essence of fingerstyle playing, assigning fingers to specific strings. This way, you don't need to look at the right hand while playing. Once you get used to it, you can "feel" where you are.
I suggest using the bass chord and finger strumming techniques for some songs, For this tune I'll simply use a pick. I explain this in more detail in the video.
Pulsing
The pulsing technique is a left-hand technique that is used to create a more percussive feel and will help you create the bouncy groove that makes people tap their feet, bob their heads and shake their booties.
Fret the chord as you normally would. Then, after you strum, release the pressure of your frethand without letting go of the chord position. The trick is to maintain contact with the strings as you pulse. Open chords are tricky to pulse because of the open strings. But, keep at it and you'll find that it'll quickly become one of your go-to techniques.
Chord Chart
I've included a chord chart, which is a simple road map that shows you:
The overall arrangement of the song.

A section by section breakdown of the song.

Each chord and how long to play it for.
If you don't read music, please don't be intimidated. This is a cheat sheet that can help you get through the tune quickly and easily. I find it indispensable for learning songs and I can also hand it to a seasoned musician and they can follow along without any problems.
Song Form
Intro:

4-bar section; A 2-measure chord riff that's repeated. The progression is Bm–G–D–A with each chord receiving two beats.

Verse:

16-bar section; A 2-measure chord riff that's repeated. The progression is Bm–G–D.

Chorus:

16-bar section; Same as the Intro played four times.

Outro:

 8-bar section; Same as the Chorus followed by a Bm–G vamp.
Once you become familiar with chord charts, you'll never want to go back. It's just easier to see where you're going when you have a map. And, it's especially helpful when you're not familiar with the song or there's a section of the song that you don't remember (Bridges and Interludes are notorious for surprising players and derailing a song's performance).
This tune doesn't have an Interlude or Bridge and the progression is pretty repetitive. Just make sure that you make some subtle changes to your strumming pattern as this will help outline the changes between the song's sections.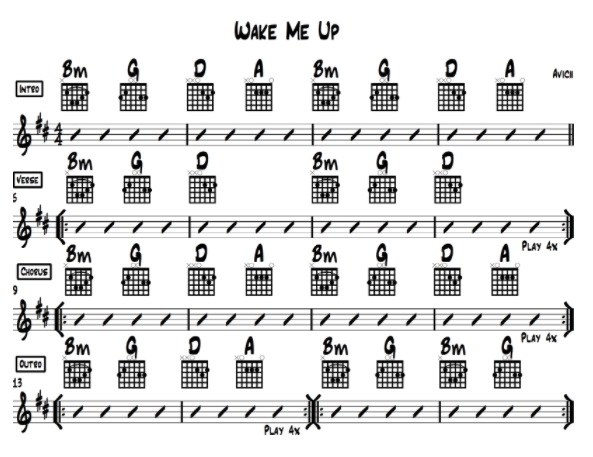 Wrap-up
I hope that you've enjoyed learning Wake Me Up chords as much as I did in preparing this lesson for you. This is a fun song with a driving beat that people enjoy whether they recognize the tune or not.
Thanks for hangin' with me and I'll see you next time.