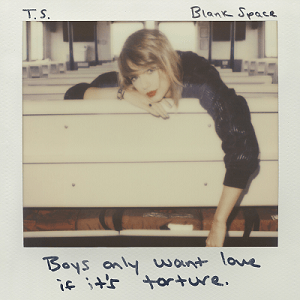 Blank Space is a song by American singer-songwriter Taylor Swift from her fifth studio album, 1989 (2014). It was written by Swift, Max Martin, and Shellback. The song was released to the radio by Republic Records on November 10, 2014 as the album's second single, after Shake It Off and is the second track on the album. Musically, Blank Space is an electropop song with lyrics that satirize the media's perception of Swift and her relationships. Today we'll learn an easy arrangement of the Blank Space chords for guitar.
Blank Space reached number one on the US Billboard Hot 100 following Shake It Off. Swift became the first woman in the Hot 100's 56-year history to succeed herself at the top spot. A critical success, it has also been included in numerous year-end critics' lists. The song has also topped charts in Canada, South Africa, and Australia. It also charted in the top 10 in numerous countries, such as Austria, Czech Republic, Germany, New Zealand, Spain, and the United Kingdom.
Useful links
Song Specs
Title: Blank Space
Artist: Taylor Swift
Songwriters: Taylor Swift, Max Martin and Shellback
Album: 1989
Key: D (Capo at the 3rd Fret; actual key F)
Tempo: 63
Chord Progression: D–Bm–G–A–A7sus4–Em
Accompaniment Technique: Open Chords and Simple Strums (Percussive, Muted and Targeted Strumming)
Playing Tips
Here are some helpful tips to keep in mind that will help you learn the tune faster while giving you some ideas for how to approach performing it. I provided some useful links above and I'll take you through the Blank Space chords, accompaniment patterns, song form, and a chord chart. Everything you need to get started playing this tune.
Blank Space Chords
| | | | | | | |
| --- | --- | --- | --- | --- | --- | --- |
| Chords | D | Em | G | A | A7sus4 | Bm |
| Progression | I | ii | IV | V | V7sus4 | vi |

Blank Space is in D major and the song form is pretty straightforward. We'll be using a capo at the 3rd fret so the actual key is F but we'll be thinking in D. There are three sections to the song, all 8 bars long:
Verse
Chorus
Bridge (Breakdown)
The song form is also pretty straightforward and right out of Pop 101:
Verse (2x), Chorus (2x), Verse (2x), Chorus (2x), Bridge, Chorus (2x)
Or, A–A–B–B, A–A–B–B, C–B–B
I like to view the song from in this manner: A–A–B–B is once through the song and we play that twice. Then, the Bridge followed by a double Chorus. As I said before, standard Pop 101.
Accompaniment Techniques
I suggest using a combination of downstrums with the open chords for the Verse. For the first Verse you may want to take a simple whole-note-strum approach; i.e, strum the chord once and let it ring out for the entire measure (or both measures only strumming on the chord change). You can then begin adding more complexity as you build from section to section.
Next, add targeted strumming for the Chorus section. Let me explain this further:
Targeted strumming is an alternate strumming technique.
Split the guitar into two string sets: the low strings (strings 4-5-6) and the high strings (strings 1-2-3).
Try to imitate the bass and snare of the drum pattern. Bass = low strings, and snare = high strings.
Use the boom-chick and the boom-chicka as your starting point.
Also, you don't need to strum too hard. Brush the strings and try to recreate that bouncy feel that is a key component of the song.
Being that this tune is largely electronic based, there is no guitar part to reference for the Blank Space chords. However, you can create your own strumming pattern and the song does lend itself to 8th-note and 16th-note strums.
Chord Chart
I've included a chord chart, which is a simple road map that shows you:
The overall arrangement of the song.
A section by section breakdown of the song.
Each chord and how long to play it for.
If you don't read music, please don't be intimidated. This is a cheat sheet that can help you get through the tune quickly and easily. I find it indispensable for learning songs and I can also hand it to a seasoned musician and they can follow along without any problems.
Song Form
Verse: An 8-measure chord section that's played twice; Measures 1 & 2 are the D chord, Measure 3 & 4 are the Bm chord, Measure 5 & 6 are the G chord, Measure 7 is A7sus4 and Measure 8 is an A chord. The second time around we repeat Measure 1–6 while Measure 7 is an A chord and Measure 8 is two beats of G and two beats of A.
Chorus: An 8-measure chord section that's played twice; Measures 1 & 2 are the D chord, Measure 3 & 4 are the Bm chord, Measure 5 & 6 are the Em chord, Measure 7 & 8 is the G chord.
Bridge: An 8-measure section that's kind of a rap section (rhythmic vocal part over percussion). This is also referred to as the Breakdown (meaning that the band drops out except for the drums and percussion).
Once you become familiar with chord charts, you'll never want to go back. It's just easier to see where you're going when you have a map. And, it's especially helpful when you're not familiar with the song or there's a section of the song that you don't remember (Bridges and Interludes are notorious for surprising players and derailing a song's performance). This tune has a Bridge; however, you simply need to remember to drop out or perform a muted-strum pattern over a D chord.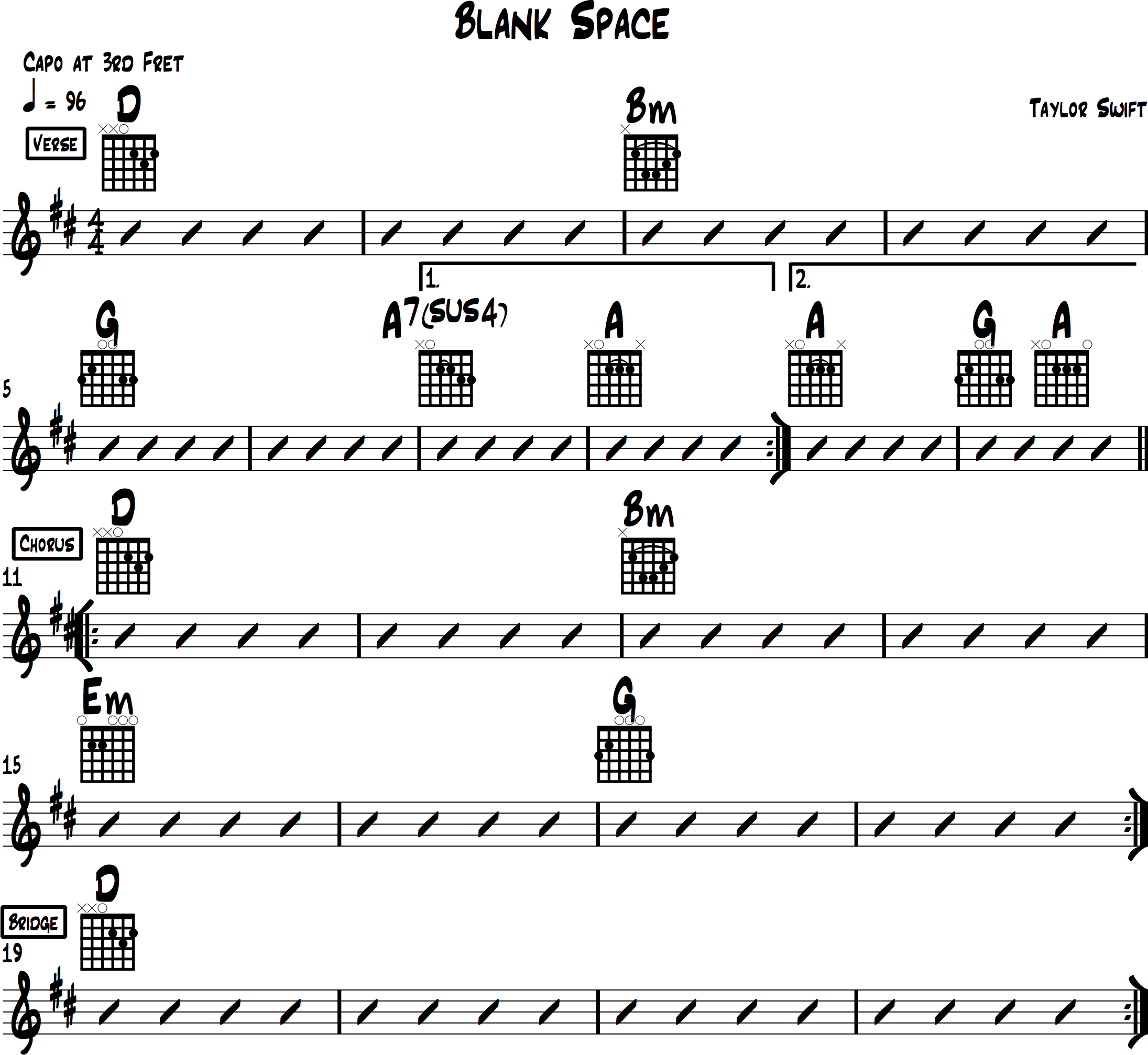 Wrap-up
I hope that you've enjoy learning the Blank Space chords. This is a fun tune that is popular among female audience members—and, a great go-to song. I sometimes perform with a female vocalist and we'll strategically place this tune in the set-list when we need to win over an audience of younger female members.
I appreciate you checking out this lesson. Thank you for hanging with me and I'll see you next time.