If you're looking for catchy, fun, and easy songs to play on the ukulele, there's no better place to start than with songs written by The Beatles. The Beatles practically built their career off of their remarkable skill of making simple songs sound compelling and interesting, so their music translates surprisingly well to an instrument like the uke. The Beatles ukulele chords you'll use for these songs are like most of the chords you'll come across on the uke: easy to learn, memorize, and play. We've got some amazing Beatles songs to show you how to play in this article. We'll provide the lyrics, chord progressions, and charts. In addition to teaching you how to play these songs, we'll also tell you the unique backstory behind these tunes and how they were created. Let's get started.
"Yellow Submarine"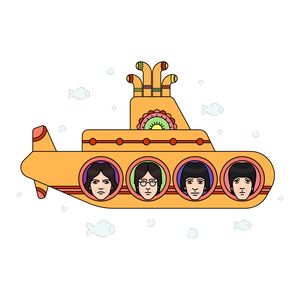 "Yellow Submarine" is one of the most famous Beatles songs, and it's by far the most famous song from the group that features Ringo Starr as a vocalist. It took the number one spot on British charts for four weeks straight and inspired a movie that was released in 1968. Written mainly by Paul McCartney, this song was written specifically for Ringo Starr to sing. McCartney later described the song as being "a song for children," but many listeners interpret the song as having a far more serious meaning. Music journalist Peter Doggett famously wrote that the "culturally empty" song "became a kind of Rorschach test for radical minds." Of all the songs featured today, this one has the least amount of Beatles ukulele chords with only five, so we recommend starting here.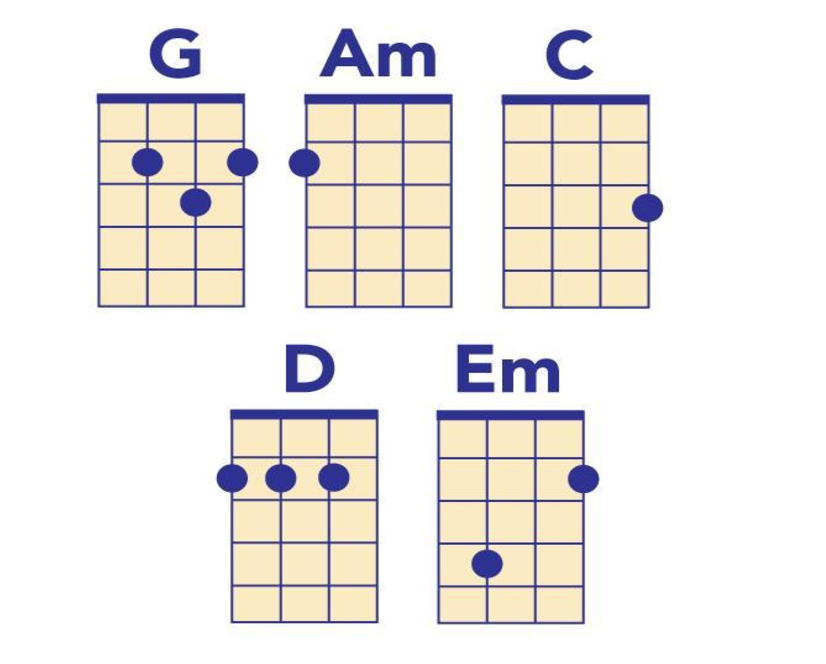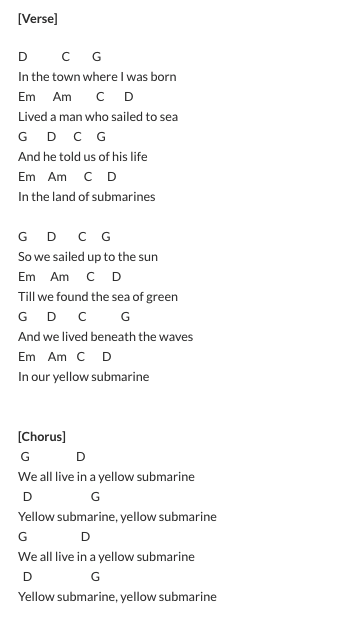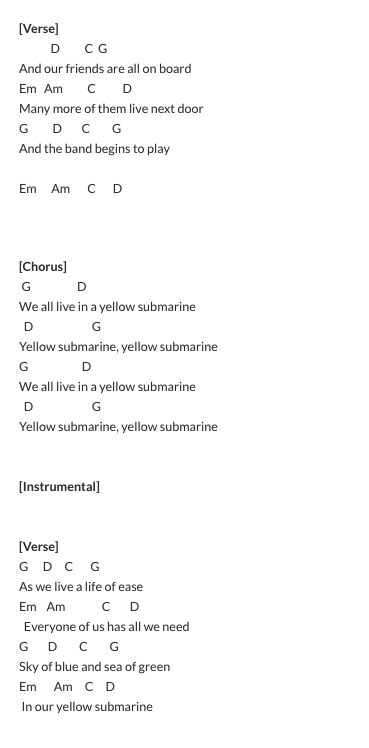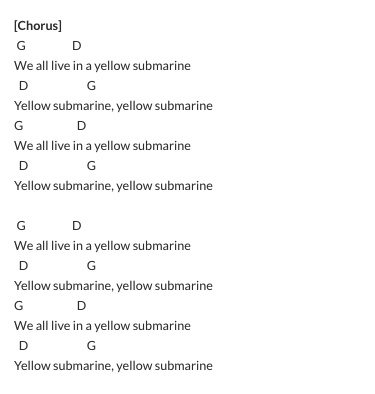 "Can't Buy Me Love"
This song is about how money can't buy true happiness, but ironically, it was written in a suite in one of Paris' most luxurious hotels in 1964. The band requested that a piano be moved to their room so they could write music while on tour, and this is how Paul McCartney began working out the material that would become "Can't Buy Me Love." McCartney would later famously say that the song should've been called "Can Buy Me Love" because of all the perks money and fame brought him. In 2015, the band donated use of the song to be used in a commercial created by People For The Ethical Treatment of Animals.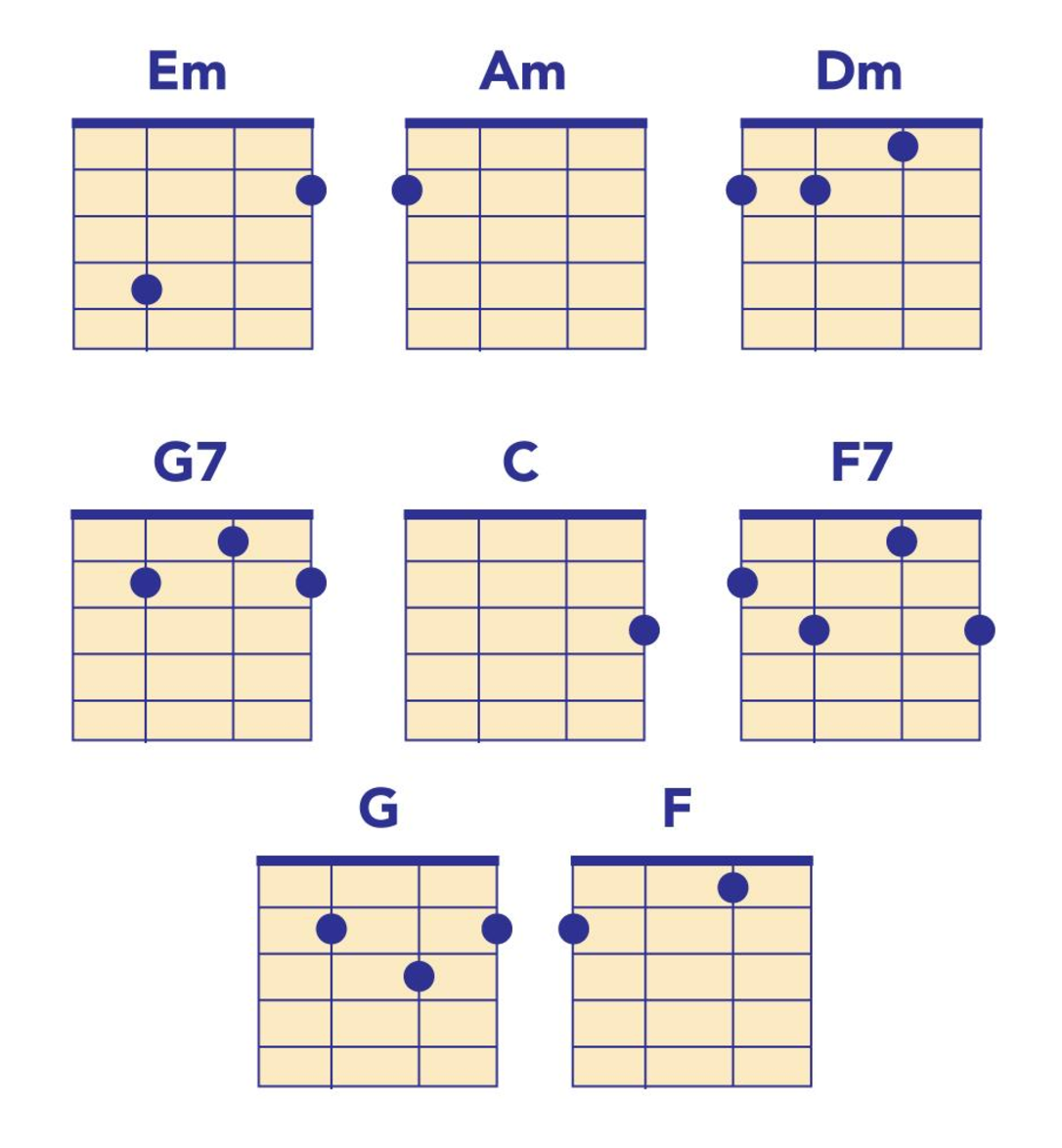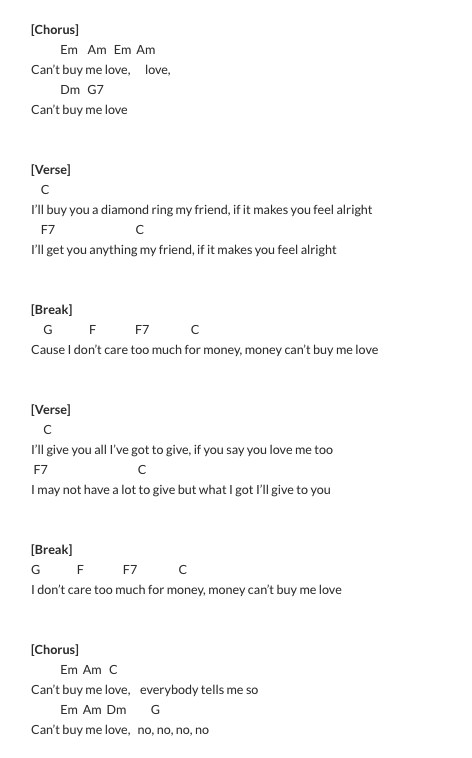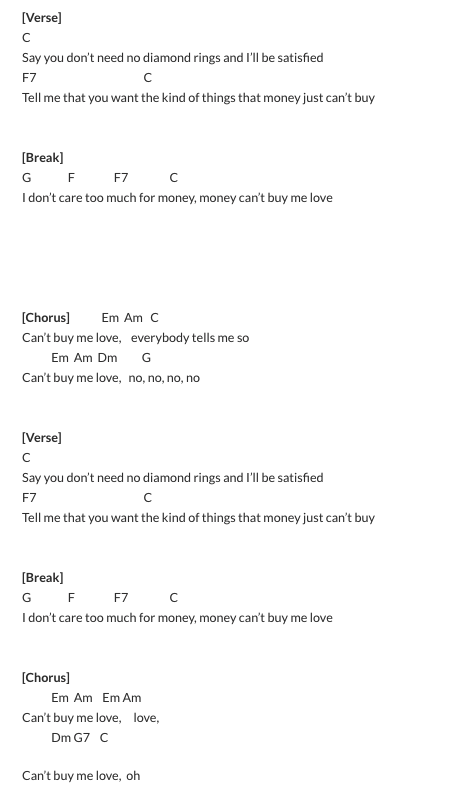 "All You Need Is Love"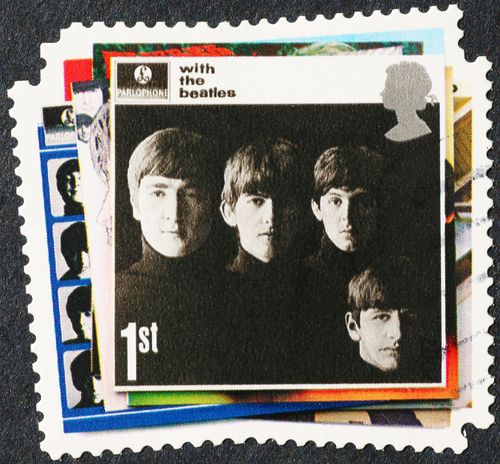 Written in 1967, "All You Need Is Love" is a song that perfectly captures an era now called "the summer of love" that swept the world in the late 60's. The band set out to write a song with a clear message of love that can't be mistaken for anything else. Beatles manager Brian Epstein said, "It was an inspired song and they really wanted to give the world a message. The nice thing about it is that it cannot be misinterpreted. It is a clear message saying that love is everything."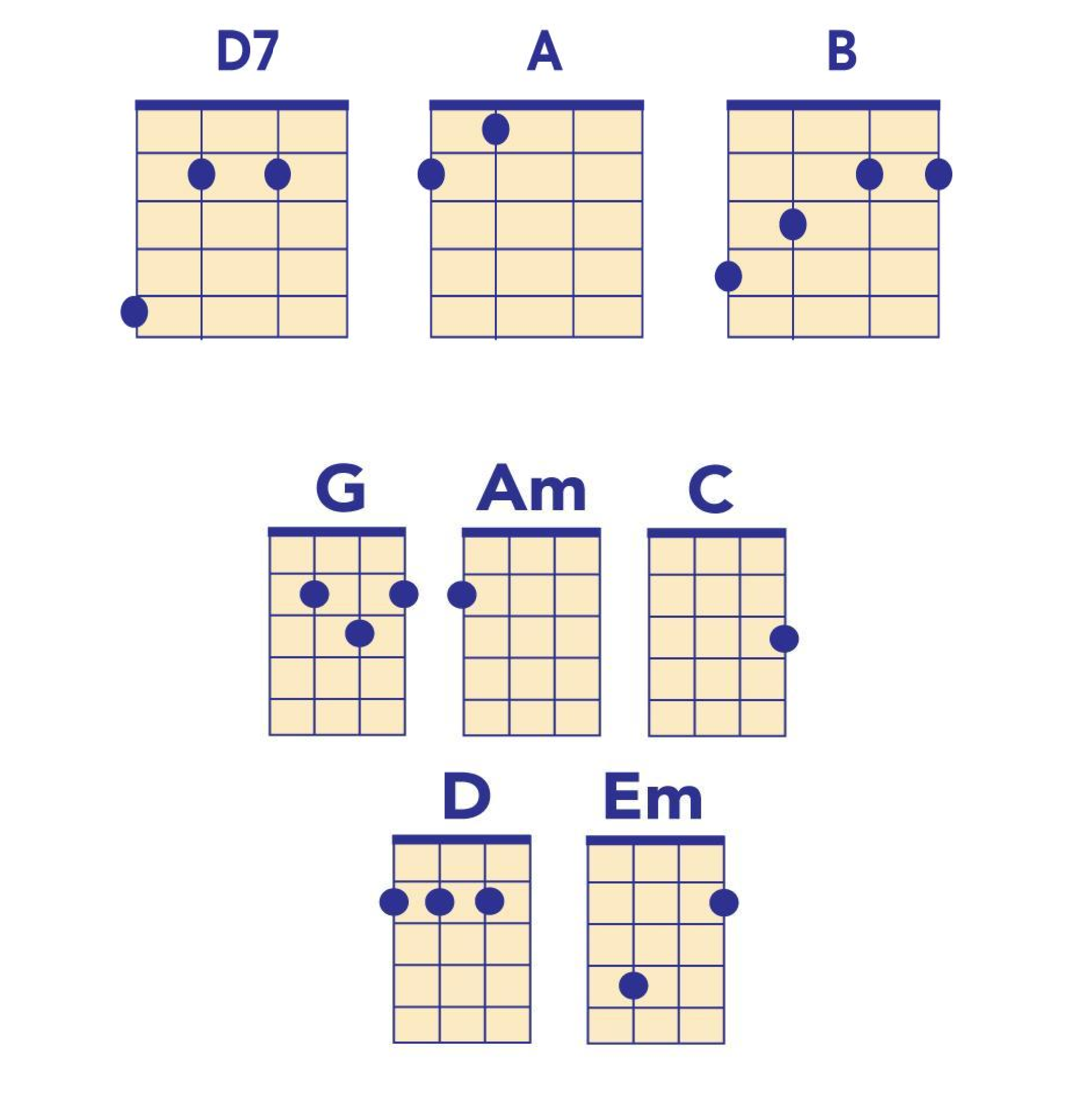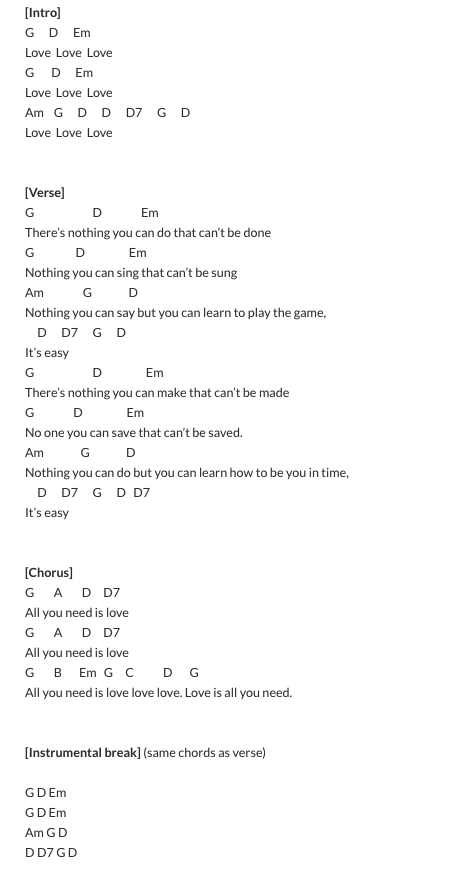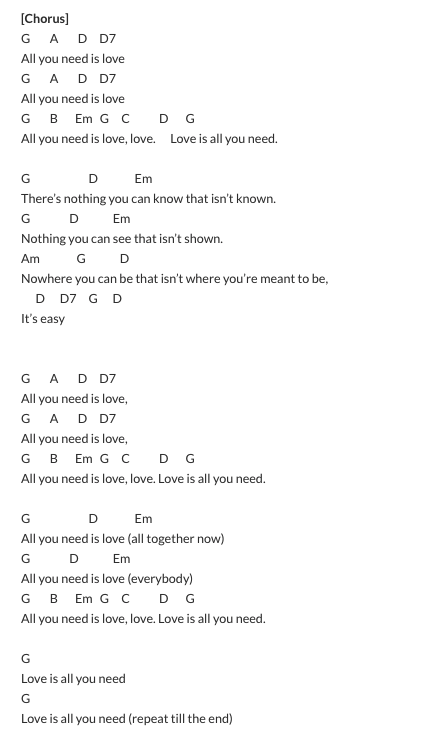 "Revolution"
The Beatles recorded three versions of this song in 1968: a slow, subdued version called "Revolution 1," an experimental version filled with a cacophony of captured sounds called "Revolution 9," and a faster hard rock version released on the B-Side of the Hey Jude single simply called "revolution." Inspired by protests of the Vietnam War, this song caused a rift between The Beatles and far-left protesters. In the song, John Lennon criticizes violent forms of protest, singing "count me out" when it comes to destruction. The song is a famous example of one of the first recordings that made use of intentionally distorted guitars, but you can still play a great acoustic rendition with these Beatles ukulele chords.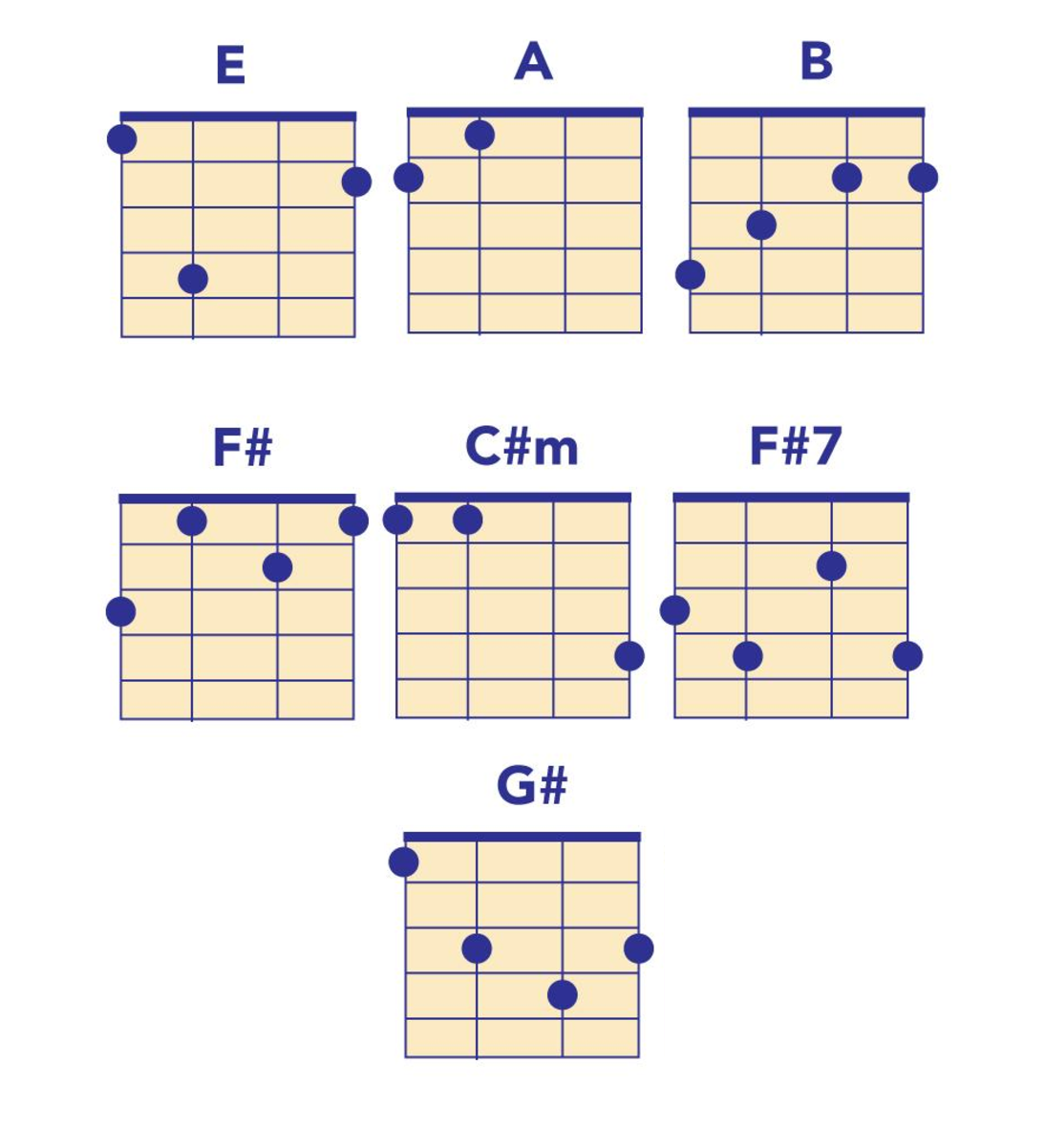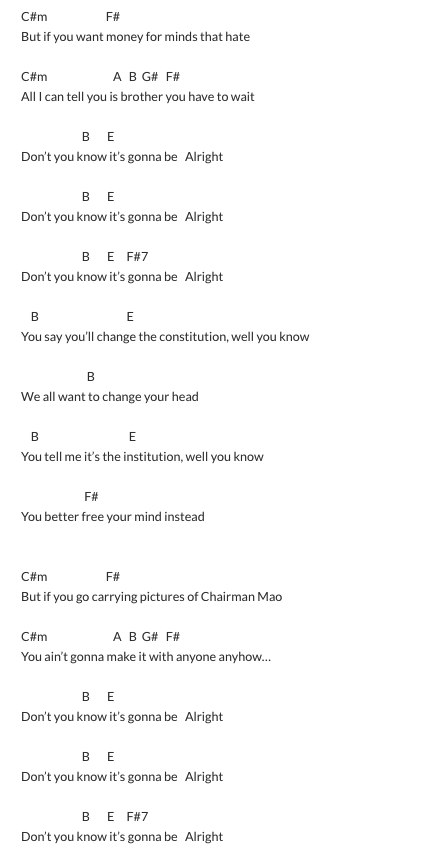 "Here Comes The Sun"
"Here Comes The Sun" is the best known Beatles song written by George Harrison. It was written in the country home of Eric Clapton, and the lyrics talk about the excitement over the arrival of the season of spring. The band was scheduled to be in business meetings all day, but Harrison decided to stay home and write music all day instead. Maybe he knew he had a phenomenal song inside of him just waiting to come out that day, because "Here Comes The Sun" elevated Harrison from being just a guitar player to a master songwriter who could hold his own against Lennon and McCartney.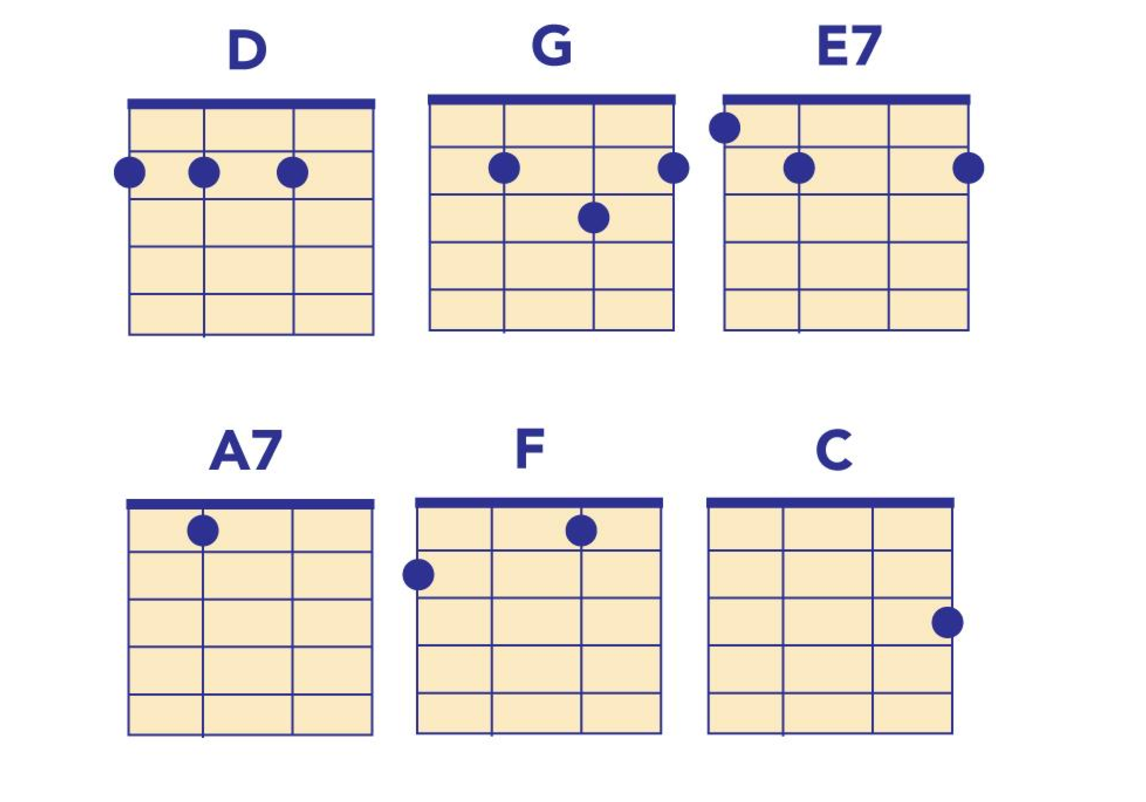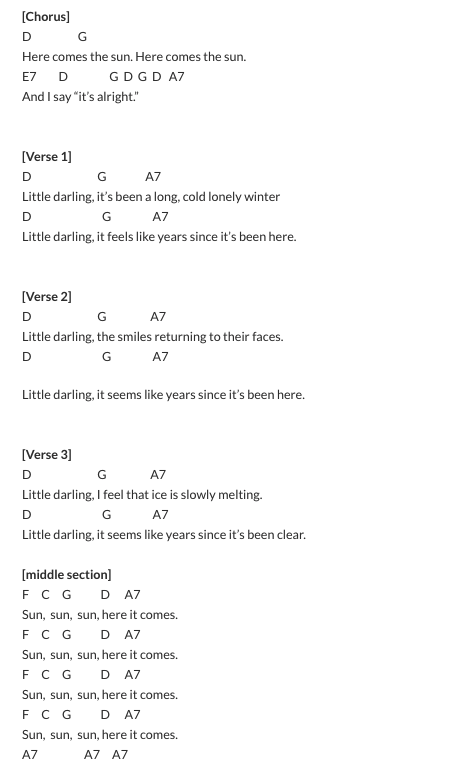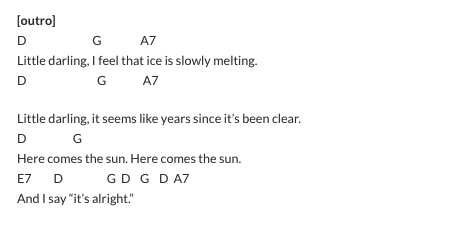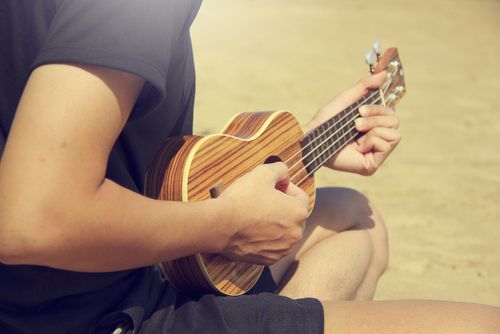 We hope you've had as much fun learning these Beatles ukulele chords as we've had telling you about the songs they're featured in. Remember, the chords you've learned in this article are in countless other songs, so everything you've picked up here can be applied to other music. For more helpful articles about the ukulele and the world of music, check out the Musika Lessons blog.