Cateura, Paraguay's Very Own Recycled Orchestra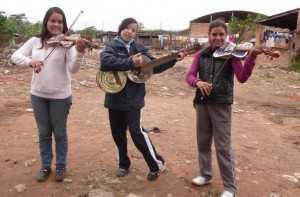 Along the dusty banks of a polluted creek in Paraguay, dozens of families live amid heaps of rubbish from the landfill that makes up the majority of their city. Endless piles of trash stretch for as far as the eye can see, contaminating the soil, air and water throughout Cateura. Nearly every day, more garbage is unloaded into the arid dump. Residents of all ages sift through the refuse, searching for items with recyclable value in order to earn money for themselves, their families and their community. The largely unseen perils of this lifestyle range from minor injuries that lead to serious infection to regular exposure to hazardous chemicals found throughout the landfill. Even so, these and other daily risks have become a necessary component of survival for the people of the city, particularly for the recyclers who rely upon their scavenging skills for an unbelievably sparse income.
From the seemingly bottomless mountains of trash come a variety of materials with unexpected potential for the citizens of Cateura. Defunct appliances, discarded home goods, old industrial equipment and more offer the impoverished community a unique opportunity: a small but growing group of children and teenagers are learning how to craft amazing orchestral instruments of the trash that surrounds their homes. From violins, cellos and guitars made of scrap metal and wood to flutes, saxophones and clarinets built from old water pipes, coins and flatware, The Recycled Orchestra, or "Landfill Harmonic" has taken shape and is inspiring locals and the world alike with the power of music.
Through this revolutionary project, renowned maestro Luis Szaran, local musician Favio Chavez and area resident Nicolas Gomez (or Cola, as he is known) have introduced the influence of music and community to children in Cateura. Every day, more people from around the world are made aware of this tiny slum and the potential it holds, as well as the intolerable environmental conditions in which these people abide. The group as a whole hopes to foster a greater sense of awareness on an international level with their ingenuity, talent and commitment to recycling, all while producing incredible music through the unlikeliest means. Though their initial objective revolved around helping otherwise destitute children rise up from the depths of poverty, the group now sees how their efforts may help to educate people from across the globe about various ways to recycle, reduce waste and improve the state of the environment in general.