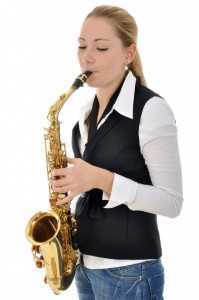 The best age to start saxophone lessons varies, mostly determined by the size of the student and which type of the saxophone they are interested in. We typically recommend seven or eight as the minimum starting age for saxophone lessons. Alto saxophones are best suited for younger students due to their size, roughly two feet in length. The alto sax is also the most popular type of saxophone for beginners, due to its compact size and lower weight.
One advantage of playing the saxophone is that the fingering and note reading is the same for all instruments. This makes it really easy to switch between the soprano, alto, tenor, and baritone saxophones, only requiring the player to make adjustments to their embouchure. This is another reason why many players will start on alto sax, and then switch to the tenor or baritone once the student is a bit older.
The tenor sax is also very popular in jazz, blues, and even rock music, and measures approximately 33 inches in length. Students in school music programs can begin the tenor sax around age 8 (same as alto) but the student should want to play the tenor and be willing to carry it around between school band practice, lessons, and back home.
The baritone sax is around four feet in length and thus is frequently too large for students until they are a little older, usually at least age 9 or 10. The baritone sax is also more expensive to purchase and rent, so keep that in mind before starting a complete beginner out on this instrument.