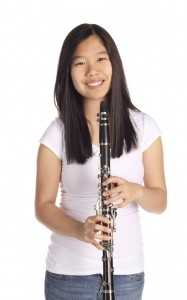 Many parents are concerned about the best age to start clarinet lessons for their child. Because the clarinet has a large number of keys, our recommended starting age is around seven. The most important factor to keep in mind is whether or not the student's hands are large enough to facilitate playing. As a wind instrument, it is also important that the student has the developed lung capacity to play. Most school music programs will begin students on Clarinet around the 3rd or 4th grade, but this can vary, and lessons can begin at this time.
Younger students are encouraged to look into more durable clarinet models made from sturdier materials, such as plastic, which can be used outside during marching band. Common brands of student model clarinets are Yamaha and Selmer. More experienced players can learn the delicate care required to maintain a higher quality wood instrument that is used for only indoor concert band or orchestra performances – the professional standard clarinet is a Buffet.
Many students will seek formal clarinet instruction as they begin playing with a school orchestra in junior high, around age 11 or 12. Clarinet lessons will give those students an advantage by ensuring that their is a solid foundation laid for their musical education, through the study of musicianship, music theory, technique, and solo repertoire.