The best age to start trombone lessons is around the ages of 8 to 10, although most students will begin as they enter junior or senior high school concert bands or orchestras.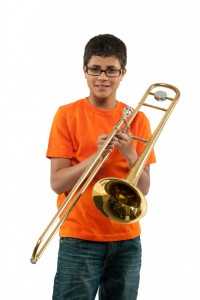 The instrument requires a good amount of lung capacity as well as physical strength with the muscles around the mouth and the ability to maneuver the instrument's sliding valve.
While a student younger than the age of 8 could possibly be physically able to play the instrument, this is somewhat rare. The instrument itself requires assembly and cleaning both before and after each time it is played. Additionally, the trombone has some delicate parts and may not be ideal for households with small children.
Most students beginning trombone lessons will rent a student model straight-valve trombone; popular models include Yamaha, Bach, and Conn.