Navigating the world of good guitar brands can be both exciting and overwhelming. There are so many different styles, shapes, sizes, and makes of guitars that newcomers to the scene have a hard time sorting out what is the best fit for them. Then, of course, there's always the matter of price when you are considering a new instrument.
While price is a huge factor, and often a determiner of quality, there are many more important factors worth considering when you looking for a guitar, and there are many high-quality options at perfectly reasonable prices. Often the greatest decision when choosing a guitar is the brand, manufacturer, or luthier.
Each brand has its own distinctions, benefits, drawbacks, and niche which it appeals to. Most guitar players are loyal to one particular brand for one reason or another. Even the style and image associated with the instrument comes into play heavily, here. For example, consider the image cultivated by Jimi Hendrix and his Fender Stratocaster. Not only did he expand the realm of tones that everyone thought the guitar was capable of, he made this particular model his own. It's an iconic guitar that will always be associated with Hendrix and the blues.
Since this is such an important consideration for guitarists just starting out, let's take a look at the vast range of options of good guitar brands, and how they compare to each other.
Gibson
Gibson is one of the oldest, most iconic, and most reputable guitar brands in existence. It is more than just one of the good guitar brands; it is an amazing work of art. The Gibson brand is idealized in the guitar community and many — if not the majority of — guitar players stand by the instrument, exclusively.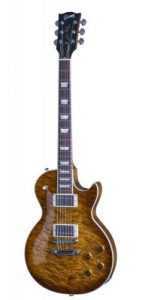 They are based out of Nashville, TN, and all of their products are made in the United States. The Gibson Les Paul is possibly the most iconic model of guitar ever made. It's been used by many players throughout the years, and it's suitable for everything from jazz to rock to metal. Famous wielders of the instrument include: Jeff Beck, Duane Allman, Chuck Berry, Jack Bruce, Eric Clapton, Bob Dylan, Dave Grohl, George Harrison, Tony Iommi, B. B. King, Jimmy Page, and many, many more.
Most Gibson guitars feature two humbucking pickups, giving them a very full, clean sound. They are very simple in design, and easy to use with a focus on quality. Maintenance is also easy with Gibsons. Their bridge style places the strings closer together than the likes of Fender or Ibanez guitars, making them slightly different to play. While there is slightly less room for error in finger placement, the strings' proximity makes them a better fit for small hands and for instrumentalists who need to rapidly navigate the fretboard.
Because of the high quality, Gibsons are among the more expensive models of guitars. However, Epiphone, of whom they are the parent organization, produces high quality guitars at much more affordable prices. These guitars are usually slightly inferior to their Gibson counterparts, but the playability and style are similar, and they are still a definitely among the good guitar brands.
Fender
Fender guitars are often seen as the counterpart to Gibson, matching the brand closely in popularity, versatility, and quality, but they are very different in sound, style, and playability. Usually, guitarists lean one way or the other between the two brands — you're a Gibson person or you're a Fender player.
Based out of Scottsdale, Arizona, Fender offers a few levels of quality of guitar, depending on where they're made. Their high-end models are all made in the United States — as is designated on the headstock — while their less expensive models are made in Mexico. Most Fender guitars feature single coil pick-ups, lending to a very distinct bluesy sound with more twang and less punch than a humbucking guitar.

The Fender Stratocaster is the iconic counterpart to the Gibson Les Paul. The smoothly contoured body is very comfortable to hold and play, and it's one of the lighter popular guitar models. Usually produced from alder wood, they have a particularly rich, warm tone. Unlike most Gibson models, Fender Stratocasters make use of a floating tremolo system, which allows the player to produce a vibrato effect with a "whammy bar".
The famous guitar has been wielded by the likes of Jimi Hendrix, Eric Clapton, John Frusciante, David Gilmour, Buddy Eric, Eric Johnson, John Mayer, Stevie Ray Vaughan, and many, many more.
The Fender brand is the parent company of other good guitar brands like Jackson, Charvel, and Gretsch. While all of these are owned by Fender, they each have very unique playing styles and sounds. Fender also produces their Squire series of value guitars. These guitars are entry-level instruments, with decent sound for an incredibly reasonable price.
Ibanez
Ibanez is a Japanese brand of guitars that have long been associated with progressive, jazz, and metal music. They offer a wide range of styles and models for all different playing types, and they have been around since the late 1950's. Like Fender guitars, they have the wider string spacing, and the guitars often feature a whammy bar. Occasionally models incorporate a Floyd Rose Locking Tremolo system which secures the tuning of the strings.
Ibanez guitars have been played by many amazing musicians, and they are widely considered the best guitar company out of Asia. They were the first company to commercially produce 7 and 8-string electric guitars. Notable players include Steve Vai, Eddie Van Halen, Pat Metheny, Joe Satriani, Paul Gilbert, John Frusciante, and many others.

They produce many different series of guitars in a wide range of quality levels. The Ibanez J. Custom series is their top tier of guitar — high-quality instruments with price tags to match, while their Gio model is an introductory guitar at a very reasonable price.
Rickenbacker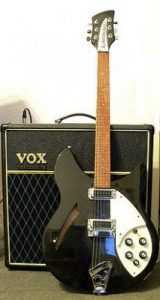 Founded in the early 1930's, Rickenbacker is one of the oldest guitar companies still in operation. They make everything from electric guitars to mandolins, and they were one of the pioneers of electric guitar development.
They secured their place in rock music in the 1960's, as they were heavily featured by the Beatles. They are one of the most distinct looking brands of guitars, with an iconic uniqueness. They are renowned for their high-end craftsmanship and beautiful tone.
Notable players of Rickenbacker include George Harrison, John Lennon, Paul McCartney, Tom Petty, and Pete Townshend. In particular, their bass guitars have been revered in rock 'n' roll history, and to this day they are seen as one of the best produced basses in the world.
ESP
Compared to the previously mentioned good guitar brands, ESP (Electric Sound Products) guitars are relative newcomers to the scene. The Japanese company was founded in the mid 1970's, and they produce mostly electric guitars and basses. The company became very popular among metal guitar players, however they are versatile enough to be used for any style.

ESP is notable for using active pickups — as opposed to the nearly universal use of passive pickups. Active pickups make use of internal amplification inside the guitar, so that the pickups produce a hotter, louder, and richer sound. The concept is very effective, however it requires the incorporation of a 9V power supply inside the guitar. This can be a great inconvenience if the battery dies and the guitar is not playable.
The guitars have seen use by the likes of Guns 'n' Roses, Damien Marley, Anthrax, and Metallica.
Martin Guitars
Unlike the aforementioned companies, Martin produces exclusively acoustic guitars. They are one of the most

celebrated acoustic guitar-makers on the planet, as they've been in operation for nearly 200 years. They are based in the United States, where they produce the majority of their instruments. They also base some of their production in Mexico.
In particular, the company is revered for its steel-string acoustic guitars, and it is often regarded as having paved the way for the invention of the modern, steel-string acoustic guitar. They invented the iconic dreadnought shape that is most common in modern acoustics.
Famous players of Martin guitars include Kurt Cobain, Mumford & Sons, Jimmy Page, Paul McCartney, Eddie Vedder, and many, many more.
Taylor Guitars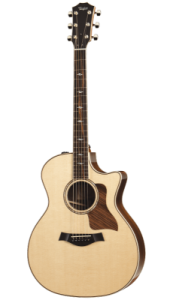 Taylor Guitars is an American guitar brand based in California. The company was founded in the mid 1970's, and it has since grown into one of the largest and most respected acoustic guitar companies. Taylor guitars are recognized for their incredible quality, craftsmanship, and innovation, while still being an accessible guitar at a reasonable price.
The brand is credited with developing a new, modern neck system that makes for easier use of higher frets. Their guitars have been played by everyone from Taylor Swift to Tony Iommi to Jason Mraz.
While there are many other notable guitar companies, and plenty of good guitar brands, these rank among the most popular and widely used. If you stick with one of these companies — or one of their subsidiary brands — you are sure to buy a quality product that will last for decades with proper care.