Rich, warm, and vibrant—the cello repertoire we know today is compiled from centuries of compositions written by some of the most beloved composers in the history of western classical music. From unaccompanied dance suites to concertos backed by a full symphonic orchestra, aspiring cellists have much to look forward to as they begin their studies. However, the road from Twinkle, Twinkle to mammoth works like the Dvorak Concerto is a considerable trek, requiring years of disciplined study and dedication. Do not despair! Step by step, piece by piece, and lesson by lesson, students equipped with a little perseverance will transform from enthusiastic beginners to promising young professionals: it is only a matter of time and a little bit of stubbornness.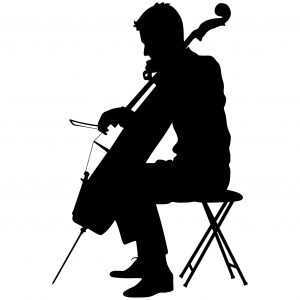 It is important that any course of musical study is guided by a pedagogically informed progression of repertoire. It is both effective and more rewarding to study pieces with objectives that can be fully mastered, an approach that will solidify new technical skills, encourage a sense of accomplishment, and pave the way for future success in more challenging aspects of the cello repertoire. For this reason, finding a knowledgeable teacher who is able to inspire and guide students along each step of the way is an invaluable part of the process.
The following section is a condensed catalogue of beginning, intermediate, and advanced pieces from the cello repertoire that students will likely encounter. Keep in mind that this is by no means a comprehensive list, but rather, a snapshot of key pieces that virtually every cellist will play. This collection of works can also serve as a listening guide to spark the interest of young cellists, demonstrating how their hard work will pay off in the future.
Beginning Cello Repertoire
Twinkle, Twinkle Variations (Suzuki Book 1)
In the beginning, the primary instructional focus revolves around building a proper set-up and bow hold, learning the mechanics of string crossings, and establishing basic intonation. For this reason, introductory songs are simple yet memorable, composed of melodic material that uses open strings, scalar motion, and simple rhythms in first position.
Minuet No. 2: J.S. Bach (Suzuki Book 1)
After a solid foundation is established, students will begin to learn different bowing patterns and articulations (i.e. staccato, legato, tenuto), expand their range to include lower strings, and be introduced to dynamics. Pieces at this level will still remain in first position but will include more arpeggiated melodies with faster rhythms and occasional slurs in a variety of major keys.
Theme From Witches Dance: Paganini (Suzuki Book 2)
Solidifying their skills, students will begin to encounter extended fingerings within first position and more demanding bow technique. In addition to quick string crossings, this next level of cello repertoire will include both slurs and hooked bowings. Students will also start to see accidentals (non-diatonic pitches) and dotted rhythms in their music.
Minuet in G: Ludwig van Beethoven (Suzuki Book 3)
In the final stages of introductory cello, students will begin exploring outside of first position with finger extensions and shifts. Also, repertoire will begin to incorporate brush stroke. As beginning cellists become more comfortable with basic technique, teachers will also start encouraging students to develop their tone quality.
Intermediate Cello Repertoire
Allegro Moderato, Sonata No. 1 in G Major: J.S. Bach (Suzuki Book 3)
As students begin their intermediate studies, they will be introduced to ornamentation, vibrato, trills, and more advanced rhythms. To foster musical maturity, students will also start to refine melodic phrases by thinking beyond the beat, learning to express a musical shape over larger impulses.
Sonata No. 2 in E Minor: Benedetto Marcello
By this point, repertoire will start to require fluent shifting up through fourth position and introduce transitional positions. Students will become familiar with minor keys and scales, note reading in tenor clef, preparatory double-stops, sustained bow strokes, and uneven bow divisions.
Suite No. 2 in D Minor for Unaccompanied Cello: J.S. Bach
Students will now encounter multi-movement works that utilize longer musical forms, extensive shifting, difficult string crossings, chords, and complex passagework. Additional technical explorations will include developing a variety of vibrato speeds, an understanding of harmonics, and double-stop studies.
The Swan: Camille Saint-Saëns
On the brink of advanced cello repertoire, students will be introduced to thumb position, allowing them to execute passagework in the upper range of their instrument. At this stage, thumb position will almost always be anchored to a harmonic and only be used in the context of simple scalar melodies or counterpoint.
Advanced Cello Repertoire
Sonata No. 1 in E Minor, Op. 38: Johannes Brahms
When students begin studying more advanced cello repertoire, they will encounter works that require both musical maturity and technical mastery. As students gain strength, stamina, and consistency in thumb position, they will discover passages within their solo repertoire that are notated in treble clef. To shape musical phrases more effectively, there will be an instructional emphasis on refining the nuance of bow technique.
Sonata No. 2 in G Minor, Op. 5: Ludwig van Beethoven
Continuing to progress, cello students will begin to master the entire range of their cello, using thumb position to play both scales and arpeggios in higher positions with accuracy. Double-stops such as octaves, sixths, and thirds will occur frequently throughout advanced repertoire.
Concerto No. 1 in C Major: Joseph Haydn
At this stage, repertoire will include virtuosic passage work that covers the full range of the instrument, demanding varied bow strokes, double-stops in thumb position, and familiarity with artificial harmonics.
Concerto in B Minor, Op. 104: Antonin Dvořák
By now, continued studies will be fully centered on masterworks of the cello repertoire. Students will play pieces that require complete technical mastery, mature artistic interpretations, an understanding of complex rhythmical concepts, and fluency in numerous tonal languages. Due to the demands of both technique and artistry, these pieces are only undertaken by advanced students and seasoned professionals.