For some reason, bassists are typically the members of the band who get the short end of the stick most of the time. Popular culture often deems the role of a bassist as unimportant and a job that can be done by almost anyone. Well, as we all know, some ideas held by popular opinion are just plain wrong, and this is one of them. Yes, anyone can pluck a note or two on the bass, but it takes a lifetime of mastery through earned skill to get bring out the full potential of the bass guitar. Most people would probably lend bassists more respect and admiration if they took the time to hear just what this incredible instrument is capable of. This article is devoted to showcasing the best bassists in music. We've compiled a list of incredible bassists from around the world who've made their mark in a variety of styles.
Les Claypool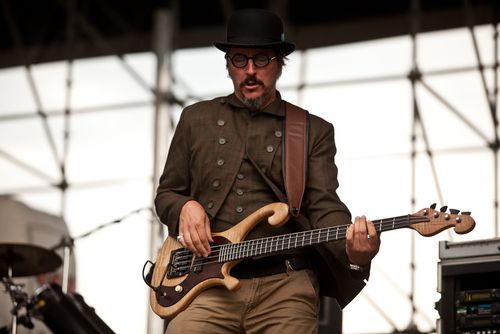 Born in 1963, the singer, songwriter and Primus bassist has the uncanny ability of making the bass sound like a living thing. Claypool was born into a family of working-class auto mechanics in Richmond, California. He picked up the bass at age 13 and was influenced by musicians like Larry Graham, Chris Squire, Tony Levin, Roger Waters, Geddy Lee, Paul McCartney, Geezer Butler, Bootsy Collins, Stanley Clarke, and John Paul Jones. Before making a name for himself, he worked as a carpenter. After the death of Metallica bassist Cliff Burton, Claypool auditioned for to fill in and wasn't chosen because the band thought he was "too good" and should "do his own thing."
Primus, which was originally called Primate, formed in the mid 80's. The band blends funk and other genres together to make songs that sound like no other type of music on the planet. Claypool uses techniques like tapping, slapping, flamenco picking and movement with the whammy bar to get his unique sound out of the bass guitar. Les Claypool is living proof of the incredible range of sounds that the bass is possible of making.
Flea (Michael Peter Balzary)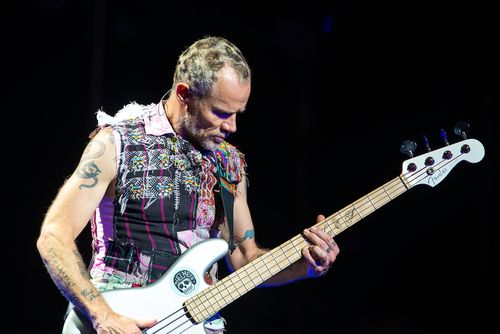 The Australian-American founding member of The Red Hot Chili Peppers and actor was ranked the 2nd greatest bassist of all time behind John Entwistle in 2009 by the readers of Rolling Stone magazine. Flea's real name is Michael Peter Balzary, and his unique approach to playing the bass has influenced not only bassists but also all of popular music. Born in 1962, Flea grew up in Melbourne, Australia before moving to New York in 1971. He received his famous moniker from his mother because of his inability to sit still. Soon after moving to New York, his parents were divorced and his mother was remarried to Walter Abdul Urban, a jazz musician. Flea became enamored with jazz at an early age, but would later describe his upbringing as painful due to his stepfather's alcoholism. After moving to LA, Flea became interested in the trumpet, idolizing musicians like Miles Davis, Louis Armstrong and Dizzy Gillespie.
In high school, Flea joined forces with Anthony Kiedis, and the two would later go on to form The Red Hot Chili Peppers after Flea learned how to play the bass. He pioneered a playing style that made use of everything from popping and slapping to more traditional bass techniques. Critics have praised Flea's masterful blending of funk, hard rock, psychedelic and and punk styles into one cohesive and original sound. Flea's musical contribution far surpasses the music of the Red Hot Chili Peppers and has seeped into the popular consciousness.
Victor Wooten
Born in 1964, Wooten is one of music's most beloved bassists. He's received five grammy awards and has been called "Best Bass Player Of The Year" three years in a row by Bass Player magazine. He's best known for his contributions to the band Béla Fleck and the Flecktones, though he's also had a remarkable solo career.
Born into a family of musicians, Wooten grew up in Newport News, Virginia and started playing bass at the ripe age of two. By age six, he was playing bass in his family's band, The Wooten Brothers Band. Wooten famously plays a Fodera bass guitar which features a Kahler Tremolo System model 2400 bridge. Bassists don't really get more virtuosic and technically skilled than Wooten, and new bassists typically look to him as a model. In addition to being one of the world's best bassists, Wooten also wrote a book titled The Music Lesson: A Spiritual Search for Growth Through Music.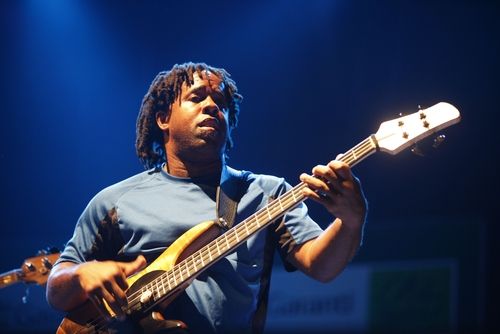 John Entwistle
This incredible bassist earned the nicknames like "The Ox" and "Thunderfingers" for his unique approach to playing the bass. Best known for his role in legendary rock band The Who, Entwistle had a massively successful and influential 40-year career before his death in 2002. He was officially voted #1 in the "Best 100 Bassists of All Time" by readers of the Rolling Stone Magazine in in 2011.
Born in 1944, Entwistle's parents were divorced when he was an infant, and he'd later go on to blame his shyness and social awkwardness due to the fact that divorce was highly uncommon in England back then. He was almost exclusively raised by his mother in a London suburb. After some unenjoyable piano lessons, Entwistle tried out a few orchestra instruments before teaming up with Pete Townsend in high school and later forming The Who.
Entwistle's style incorporates a wide variety of techniques including tapping and a sophisticated approach to generating harmonics. The bass lines he crafted were based in a pentatonic tonality, and he pioneered a rich bass sound because of his use of roundwound RotoSound steel bass strings. Audience members recall seeing Entwistle's fingers move so fast that they looked like blurs when he played. His bass playing is considered to do for the bass what Jimi Hendrix did for the guitar. Many of the bass lines we hear today are rooted and inspired by Entwistle's playing. He tragically died in 2002 of a cocaine overdose in Las Vegas, Nevada.
Geddy Lee
Geddy Lee's innovative bass playing has inspired musicians playing in many styles including Cliff Burton of Metallica, Steve Harris of Iron Maiden, John Myung of Dream Theater, and Les Claypool of Primus. In addition to being an incredible bassist, Lee is also an accomplished songwriter and talented singer of the band Rush. Lee is so beloved in his homeland of Canada that he was made an Officer of the Order of Canada on May 9, 1996 along with his bandmates.
Lee, whose full real name is Gary Lee Weinrib, was born in Toronto in 1953. You might be shocked to learn that his parents were Jewish Holocaust survivors who were lucky to make it out of the ghetto in their hometown Starachowice, followed by their imprisonments at Dachau and Bergen-Belsen concentration camps. After four years of war, his father set out to reunite with who would later become Lee's mother. They two eventually found each other and they married before immigrating to Canada.
Sadly, Lee's father died shortly before his Bar Mitzvah at the age of 13 due to medical complications from his imprisonment. Lee credits his exploratory musical nature to the fact that for most of his adolescence he was left alone unsupervised to his own devices. It was a massive blow to lose his father, but the loss ultimately inspired his to make the most out of his life through music.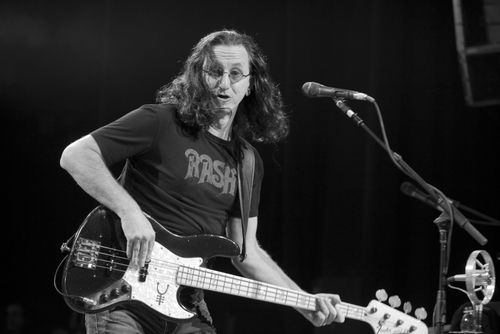 He formed a band with some high school friends and started playing locally before dropping out of school to pursue music full-time. Lee felt a huge pressure to "make it" as a musician as to not let his mother down after all she'd been through. Rush began playing small coffeehouses and recreational events in Toronto before eventually opening for major bands like the New York Dolls, Kiss, Aerosmith and Blue Oyster Cult.
Lee's style made waves early on because of his way of pushing the bass' sound to the front and center of Rush's arrangement, whereas other bassist's playing typically fades into the background. He famously plays extremely difficult passages with with a notable amount of power and speed in a high treble tone. Rush is now one of the world's most famous and beloved bands, and Geddy Lee's unique bass playing has made an indelible mark on the musical landscape.
Lemmy
Born Ian Fraser Kilmister, Lemmy's hard-hitting bass style changed hard rock forever. His furious approach to bass playing is credited for serving as an important building block to hard rock music as we know it today. Frequently described as an "overpowered, rhythmic-distorted rumble," Lemmy's playing style often relied on power chords, something usually only found in distorted electric guitar playing.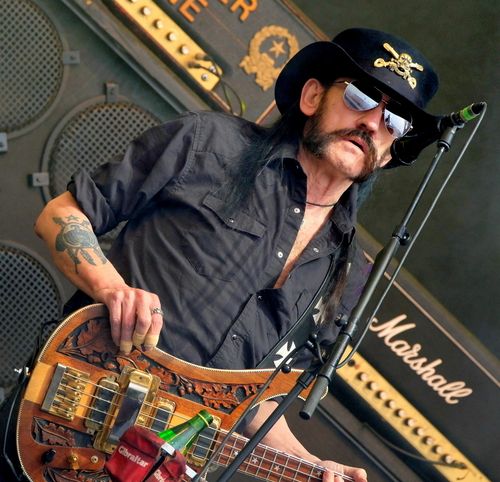 Growing up in North Wales, Lemmy was influenced early in his life by bands like The Beatles. He played in several bands and was even a roadie for Jimi Hendrix before joining space rock band Hawkwind in 1971. He was later fired from the band after getting arrested for drug possession. Soon after, he formed his own band, Motorhead, and was a symbol of the rock's hard-living lifestyle until his death in 2015.
Lemmy was born in Stoke-On-trent on the Christmas Eve of 1945. His father was a concert pianist who soon separated from his mother. When he was ten, Lemmy's mother remarried a man who had two children from a previous marriage. Lemmy did not adjust well to this new family dynamic and would later retreat into rock and roll music as a means of escape. He was nicknamed "Lemmy" because he'd often say the phrase, "Lemme (lend me) a quid til' Friday," to his friends. Two years after his death, Lemmy's aggressive and unique approach to bass playing is more relevant than ever with the increasing popularity of hard rock genres around the world.
Paul McCartney
This ex-Beatle is so famous that most people often forget who impactful McCartney's playing was for the bass. It's rare for a bassist to create melodies so thoughtful and fully formed, and no musician since has been able to play quite the way McCartney did. Unlike most the musicians on this list of best bassists, McCartney never used muting or slapping in his playing. He almost always used a pick and sometimes veered into fingerpicking styles.
Early on, he was heavily influenced by Motown artists, McCartney's playing style was very basic before evolving completely with songs like "She's a Woman" and later in his career with "The Word" from the album Rubber Soul. The album for which McCartney's bass playing is typically most celebrated is Sgt. Pepper's Lonely Hearts Club Band. Yes, Paul McCartney is responsible for some of popular music's most important songs, but he's also one of the best bassists in music.
Cliff Burton
Cliff Burton managed to seal his fate as becoming one of music's best bassists before his tragic death at the young age of 24. He joined the seminal rock band Metallica in 1982 and played on their first three studio albums: Kill 'Em All, Ride the Lightning and Master of Puppets. While the band was on tour in Sweden, he was killed in a bus accident in 1986. Nearly three decades later, in addition to being inducted to the Rock and Roll Hall of Fame, Burton's legacy still looms large in the mind's of bassists in and out of the rock music genre.
Burton started playing music in his teens and was particularly inspired after the death of his brother. "I'm going to be the best bassist for my brother," his parents later quoted him. Geddy Lee, Geezer Butler, Stanley Clarke, Lemmy Kilmister and Phil Lynott were all major influences in Burton's early playing. In 1982, members of Metallica James Hetfield and Lars Ulrich saw Burton perform in Los Angeles and were blown away. The rest is history.
Phil Lynott
Born in 1949, Phil Lynott is most well known for his incredible bass, songwriting and singing work for the band Thin Lizzy. Growing up in Dublin, Lynott was became infatuated with music after he was introduced to his uncle's record collection. In particular, he had a great affinity for Motown. At a young age, he began fronting several bands and started becoming well known in the Dublin music scene. He would later go on to form Thin Lizzie, which became famous internationally. Lynott's contributions to music not only on bass guitar but also in songwriting remain influential and prominent to this day.
If you're interested in learning how to play like someone from this list of best bassists, we recommend finding an experienced bass teacher in your area to work with. Videos and online tutorials are great, but nothing can substitute the warmth, guidance and patience a bass teacher can give you. A solid bass teacher can take a person with no skills and experience and give them the skills and insight they need to succeed on this deceptively complex instrument. For more helpful articles about the world of music, check out what else we've got posted on the Musika Lesson blog!