With all of the choices available on the market selecting a violin can be stressful, and might even seem downright impossible if you're a first time or beginner student. From our students taking violin lessons in New York, where a multitude of purchasing options may be available, to students in Milwaukee, where there may be less, all students will find our guide helpful for choosing the right violin.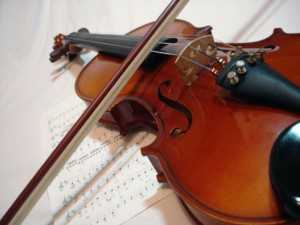 Renting vs. Buying
First time students usually struggle between whether renting or purchasing the instrument is best. Renting an instrument is usually beneficial when the student is unsure of how much commitment they can offer. It is also good for younger students who are not ready for a full size violin as purchasing a new one each time they grow out of it can be costly. For older students and adult beginners it's best to purchase the instrument as it's cheaper in the long run. A year's worth of rental fees usually ends up costing the same as a beginner violin. A used violin is also another affordable option to consider, as well as "rent to buy" programs where students pay monthly rental fees until the instrument is paid for in full.
The Sizing
Violins come in nine different sizes. Students aged eleven and up usually require a full size violin, also referred to as a 4/4 size. For younger students sizing may range between ¾ and 1/32 sizes. To measure a student, have them fully extend their left hand out and measure from neck to wrist or palm. Measurements up to the wrist indicate the most comfortable size for the student while the palm measurement refers to the largest size violin the student can possibly use. You may refer to the chart below to determine the best size for your child.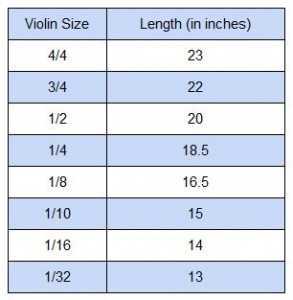 Violin Model
Violins are usually classified into three models: student, intermediate, and professional. The classifications are general and vary from manufacturer to manufacturer.
Student violins are best for first time students. They can range anywhere from one hundred to several hundred dollars depending on quality. Student violins are usually made from lower quality wood and contain plastic parts.
Intermediate violins are best for students who have a little more experience and are looking for a better quality instrument. These provide better sound quality and may be used for a number of years before the student decides to upgrade to a professional violin. They can range between several hundred to a few thousand dollars.
Professional violins, also referred to as master violins, are for advanced students and professionals alike, hence the name. These violins are usually much pricier than student and intermediate models and can cost upwards of several thousand dollars. Professional models are made of high quality wood and ebony. The value of these may appreciate over time if kept in good condition.
It is important to note, violins do not necessarily come with a bow, rosin, chin rest or case. These items need to be purchased separately unless specified.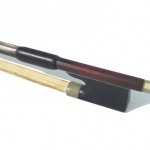 Tonewood
The types of wood used in a violin and their quality greatly impacts the durability of the instrument and the sound it produces. It is also reflected in the price of the instrument. Spruce and maple are commonly used for the body of the violin, while rosewood and mahogany are used for pegs and other small parts. Wood from colder climates is more desirable as it results in a more resonant sound. Also, taller and older trees produce a stronger wood.
Online vs. In-Store
While many recommend instrument purchases be made in-person, purchasing a violin online may be something worth looking into especially if it's a student violin you're looking for. Online stores may be able to offer a larger variety than a standalone store at lower prices without having to deal with a pushy salesperson. However, there are benefits of purchasing in store as well. Intermediate and advanced players get a chance to test out various violins, something which is important when looking for a violin with good tone quality. Younger students can also try different sized violins to find
Once you've selected the right violin for you, you'll be ready to learn!